ARCHI-CLE
後天性高床住居_DOG/齋藤隆太郎
Acquired stilt house_DOG/Ryutaro Saito
本住宅は北と東の2方向を3mの擁壁に、南をブロック塀に囲まれた人工造成地が敷地であり、そのフラットな地盤にRC壁を立ち上げ、在来木造住宅が乗る高床形式を採用している。
それは周辺地域の「建ち方」が人工地盤によって駐車スペースと居住エリアを上下分離していることにも起因する。
さらに1階のピロティ空間をベタ基礎と土間コンで打ち固めて所々に坪庭を配し、ランチや運動、地域開放のためのスペースをつくり出している。
つまり、高床の起源である湿地帯や斜面地といった地球由来の敷地ではない人工造成地に、ヴォリュームを馴染ませ、住まい手のアクティビティを取り込んだ、純然たる「後天的」な高床住居として設計しているのである。
高床形式は防虫性、防湿性、防犯性に優れているのはもちろん、今回の敷地においては、負のイメージとして扱われがちな擁壁やブロック塀のテクスチャを人工的なピロティ空間に取り込み、敷地を最大限広く活用している。
そして2階の居住エリアは光庭をぐるっと囲む平面計画にしていることから、採光や自然換気効率を高めているだけでなく、1階との見え隠れする視線のやり取りによって程良く関わり合いを持つことができる。
後天的な高床住居であるために、敷地一杯に広がるセミパブリックな1階と、風景を取り込む窓の多いプライベートな2階が生まれ、街と近すぎず離れすぎない適度な距離感を持つことができた。
構造担当 / 田中哲也_田中哲也建築構造計画
竣工日 / 2019年
構造・構法 / RC造+木造
規模 / 2階
敷地面積 / 244.15㎡
建築面積 / 121.93㎡
延床面積 / 144.00㎡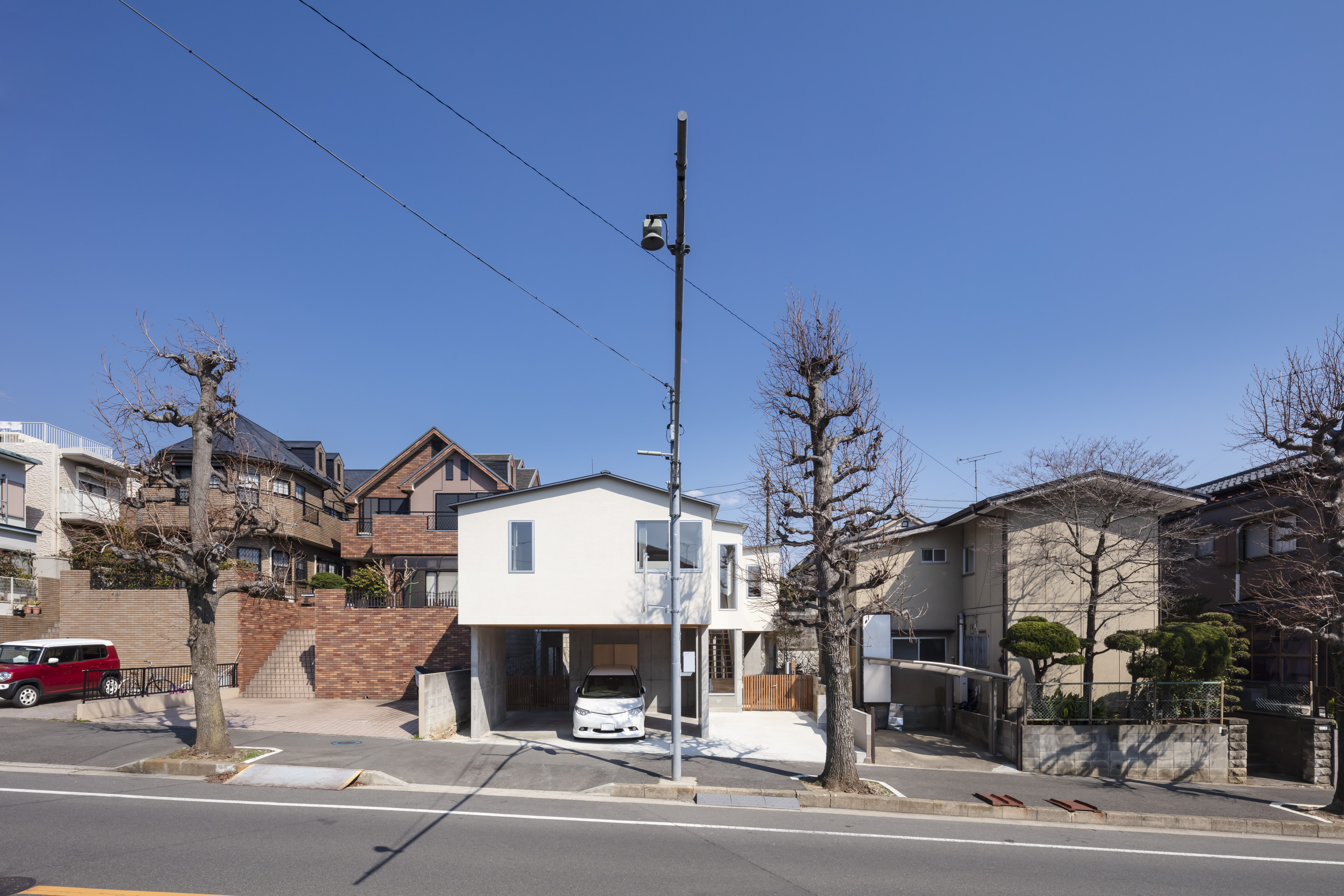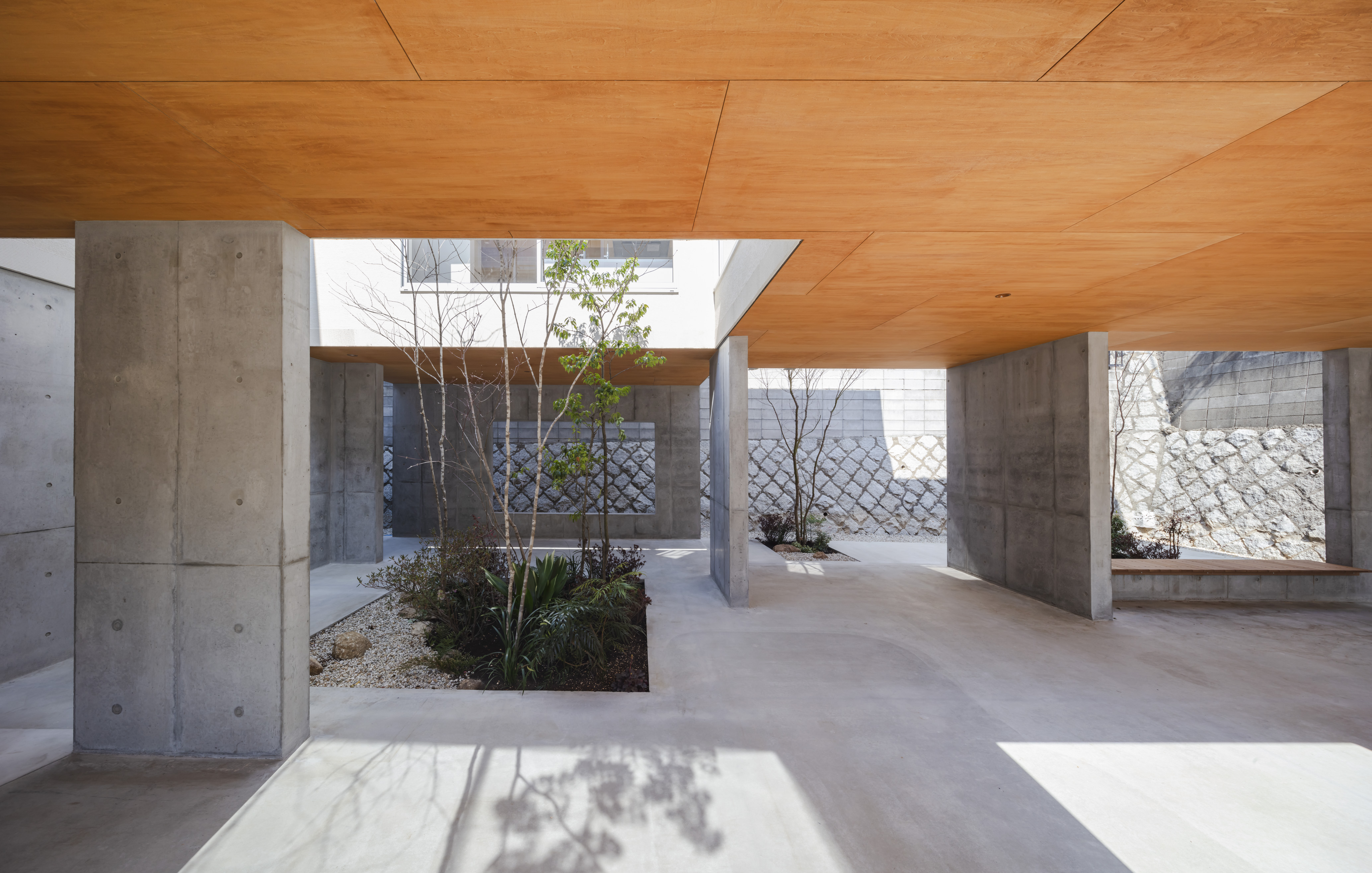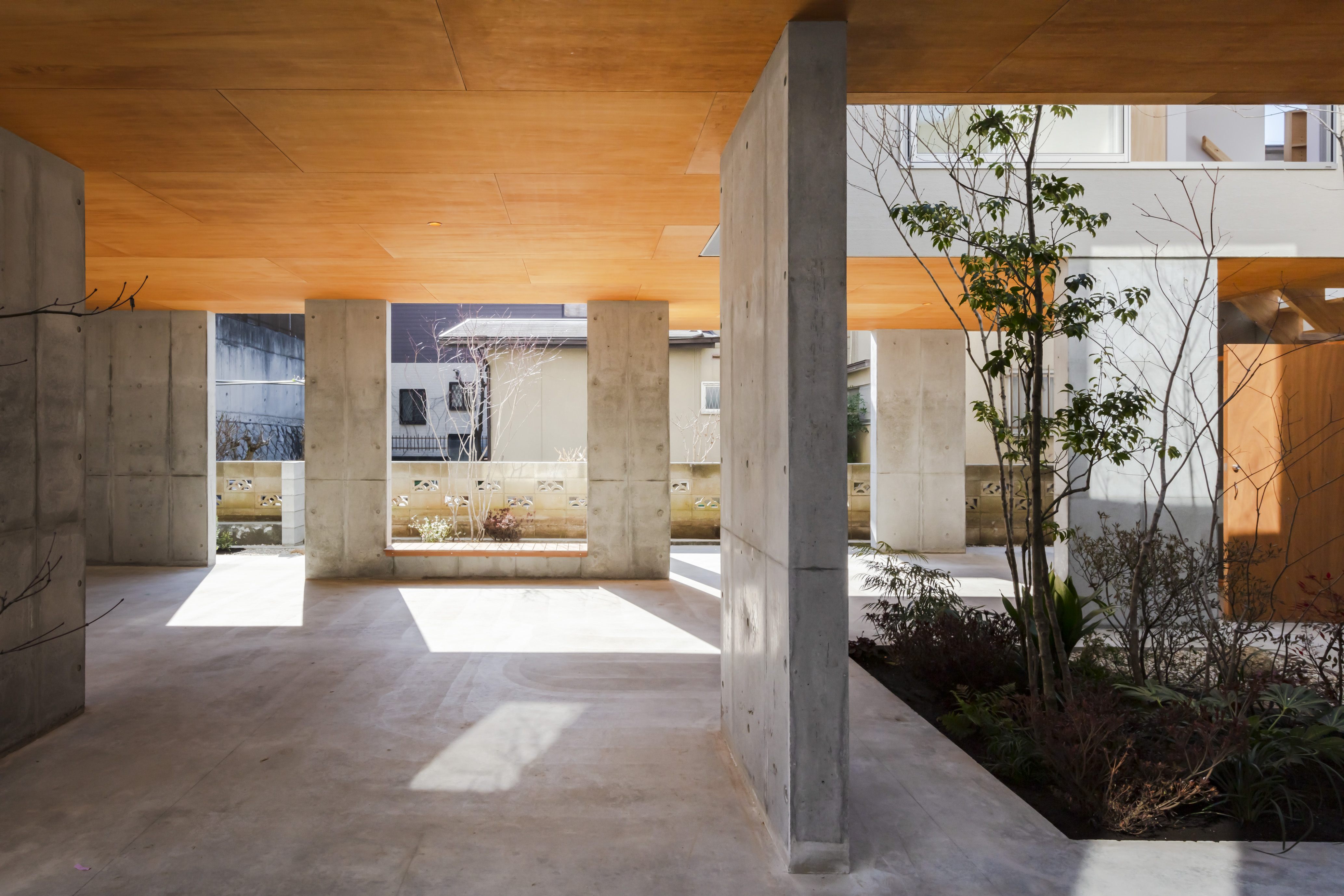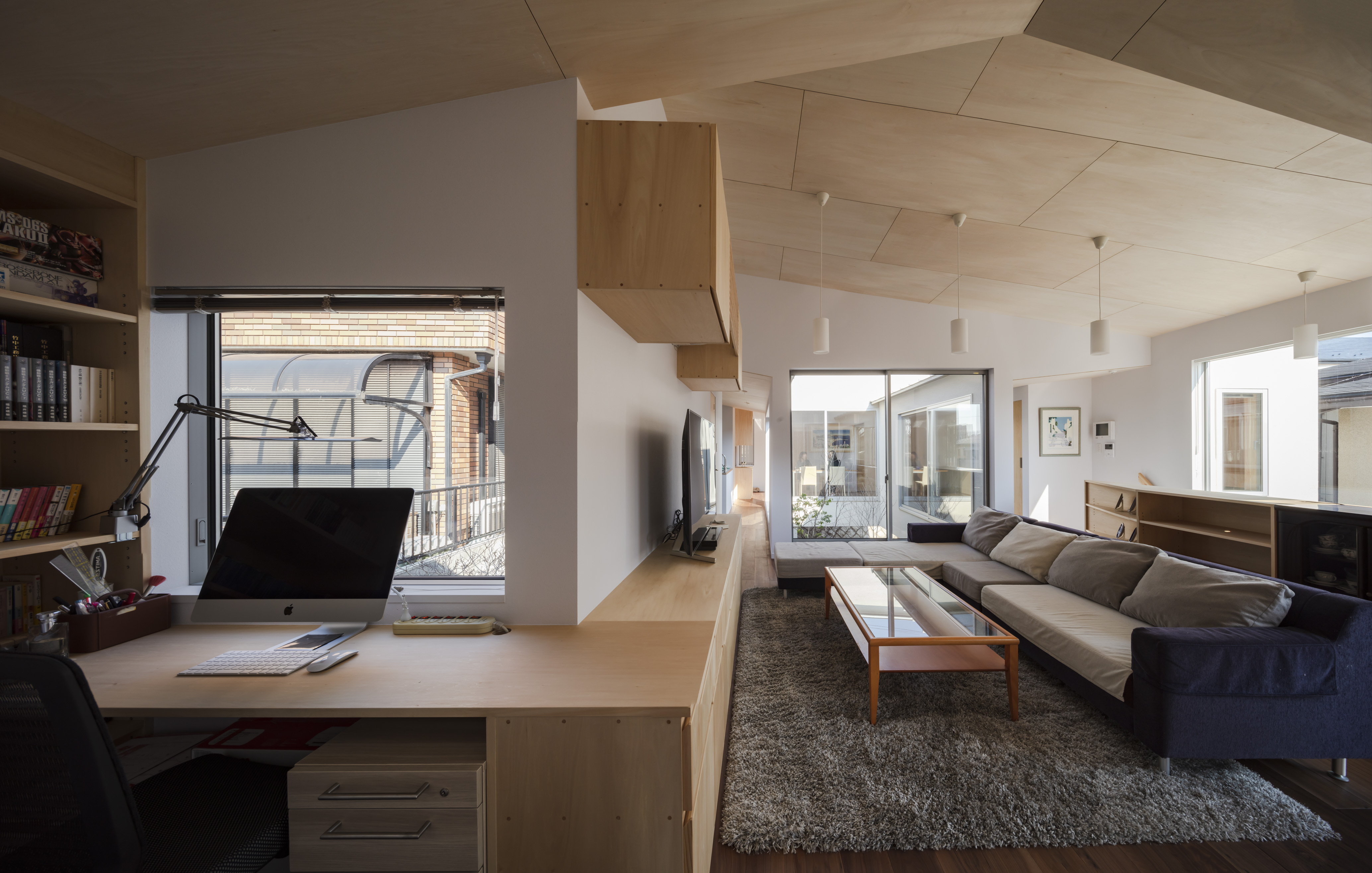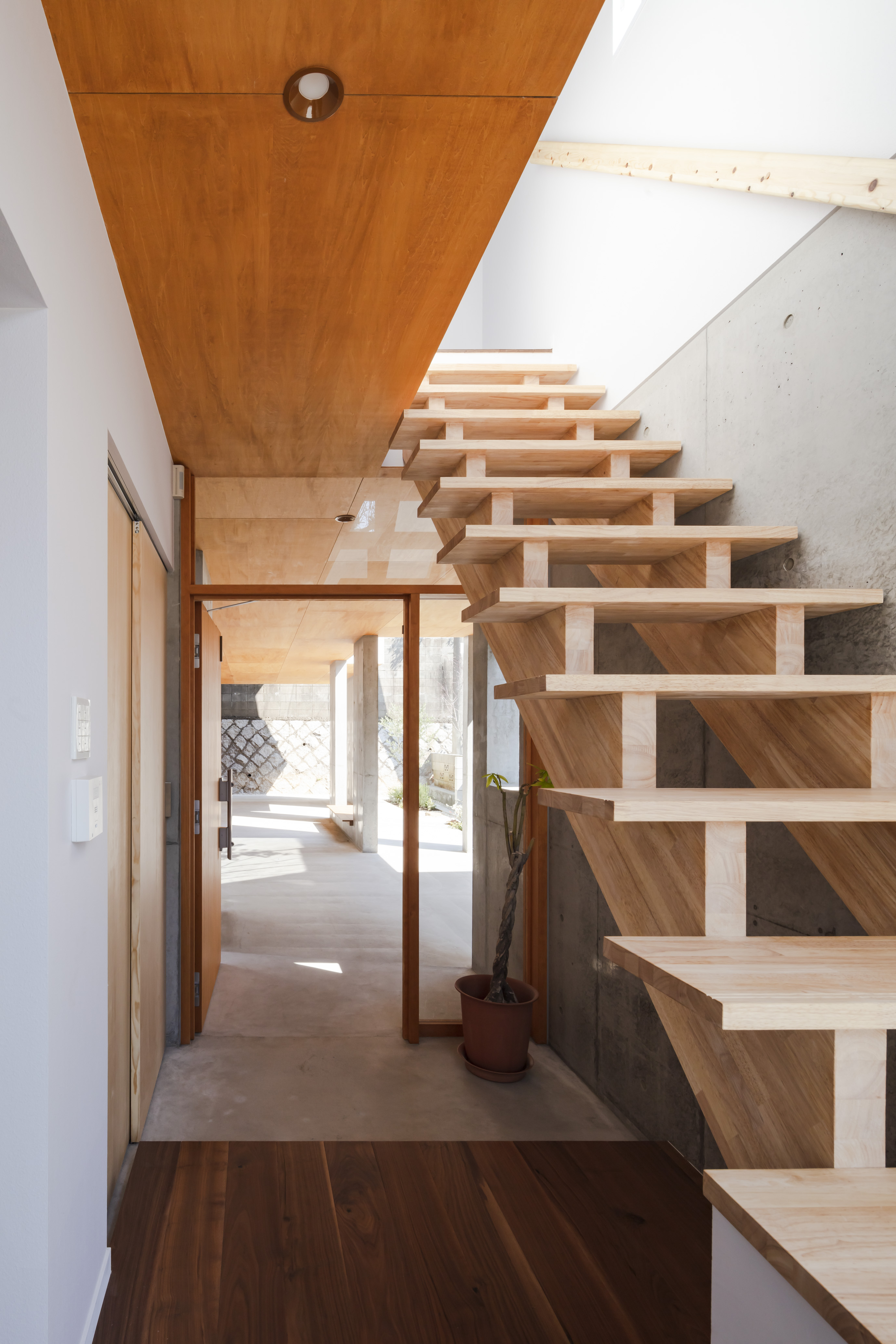 写真 / 髙橋菜生
The site is an artificial construction site, has 3m retaining wall in two directions in the north and east, and has a block ridge on the south. The RC wall are erected on the flat ground and the wooden house rides on that. It is also due to the fact that the "building method" in the surrounding area separates the parking space and the living area up and down by artificial ground.
In addition, the first floor piloti space is consolidated with solid foundation, and there are small yards in some places, creating spaces for lunch, exercise, and regional opening. In other words, it is designed as a pure "acquired" stilt house that adapts the volume to an artificially construction site that is not an earth-derived site such as a wetland or slope that is the origin of the stilt house. The stilt type is excellent in insect proof, moisture proof and crime prevention.
And in this site, the texture of the retaining wall and block ridges, which are often treated as negative images, is incorporated into the artificial piloti space, and the site is used as widely as possible. And because the living area on the second floor has a plan that surrounds the light garden, not only it enhances daylighting and natural ventilation efficiency, but we can also get in touch with the first floor softly. Because of acquired stilt house, it is possible to create a semi-public first floor that spreads throughout the site and a private second floor with many windows that take in landscapes, and have appropriate distance to the city.
Structural Engineer / Tetsuya Tanaka / Tetsuya Tanaka Structural Engineers
Year / 2019
Main Structure and Construction / RC+W
Size / 2-storey above the ground
Building area / 244.15m²
Building scale / 121.93m²
Total floor area / 144.00m²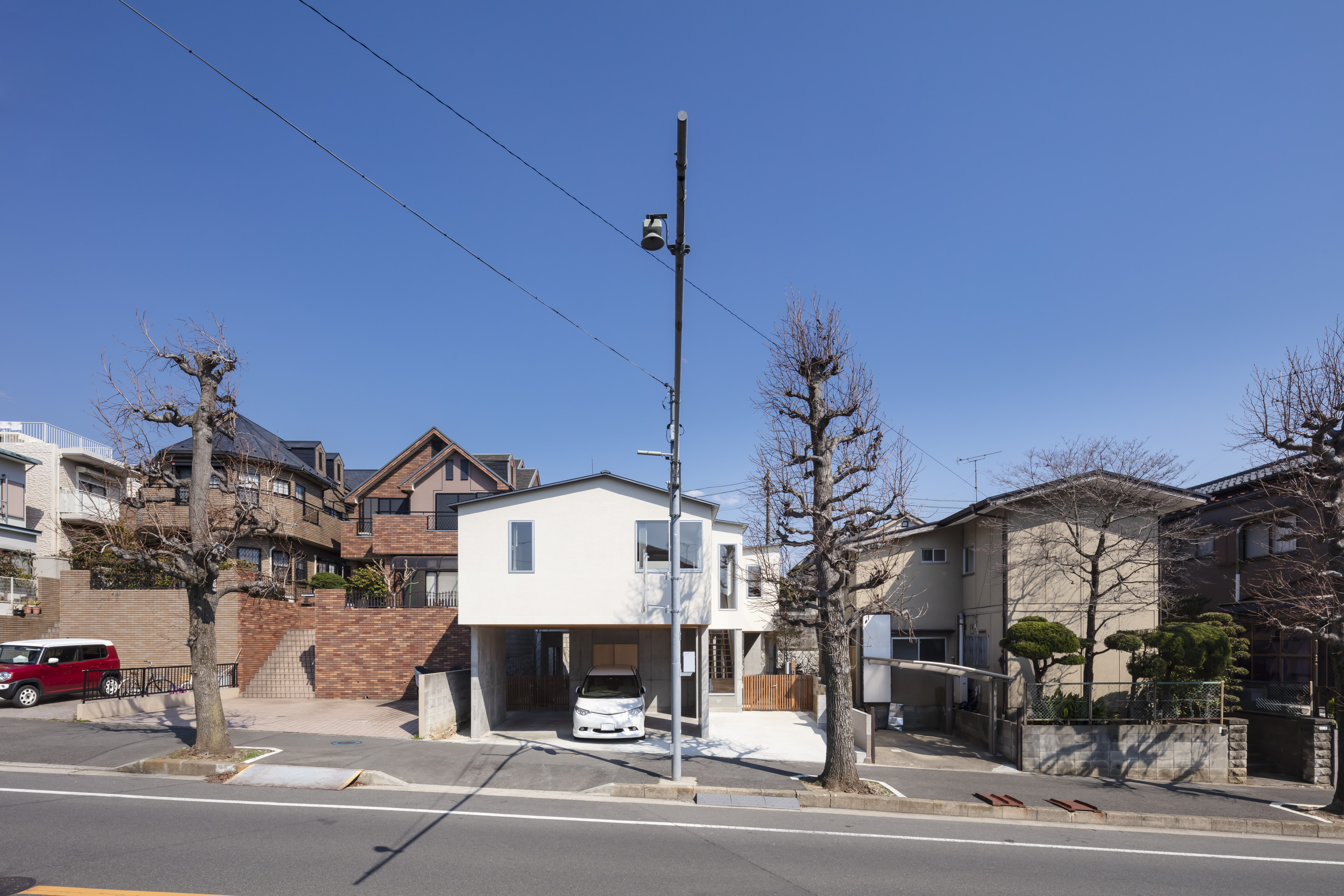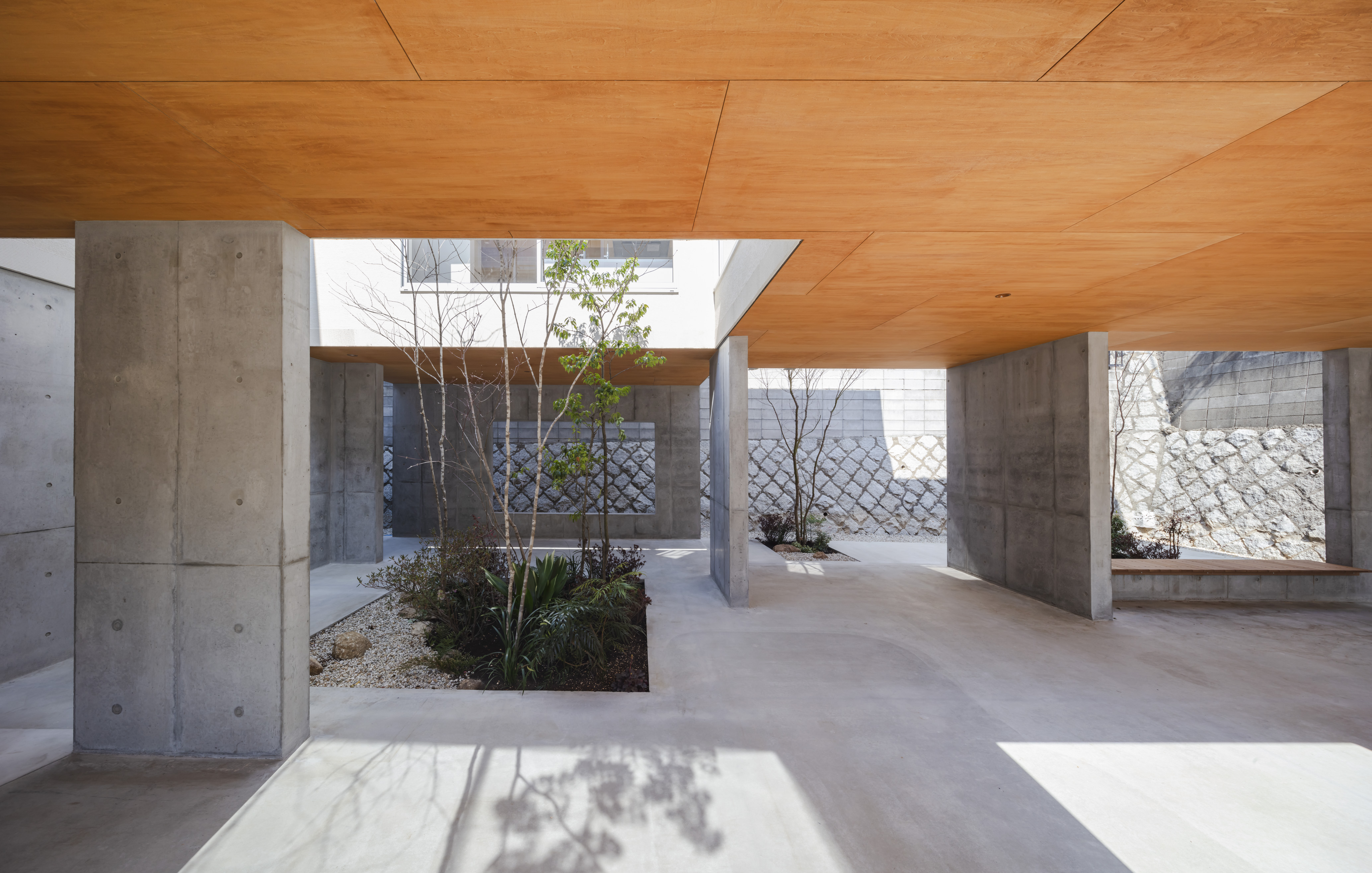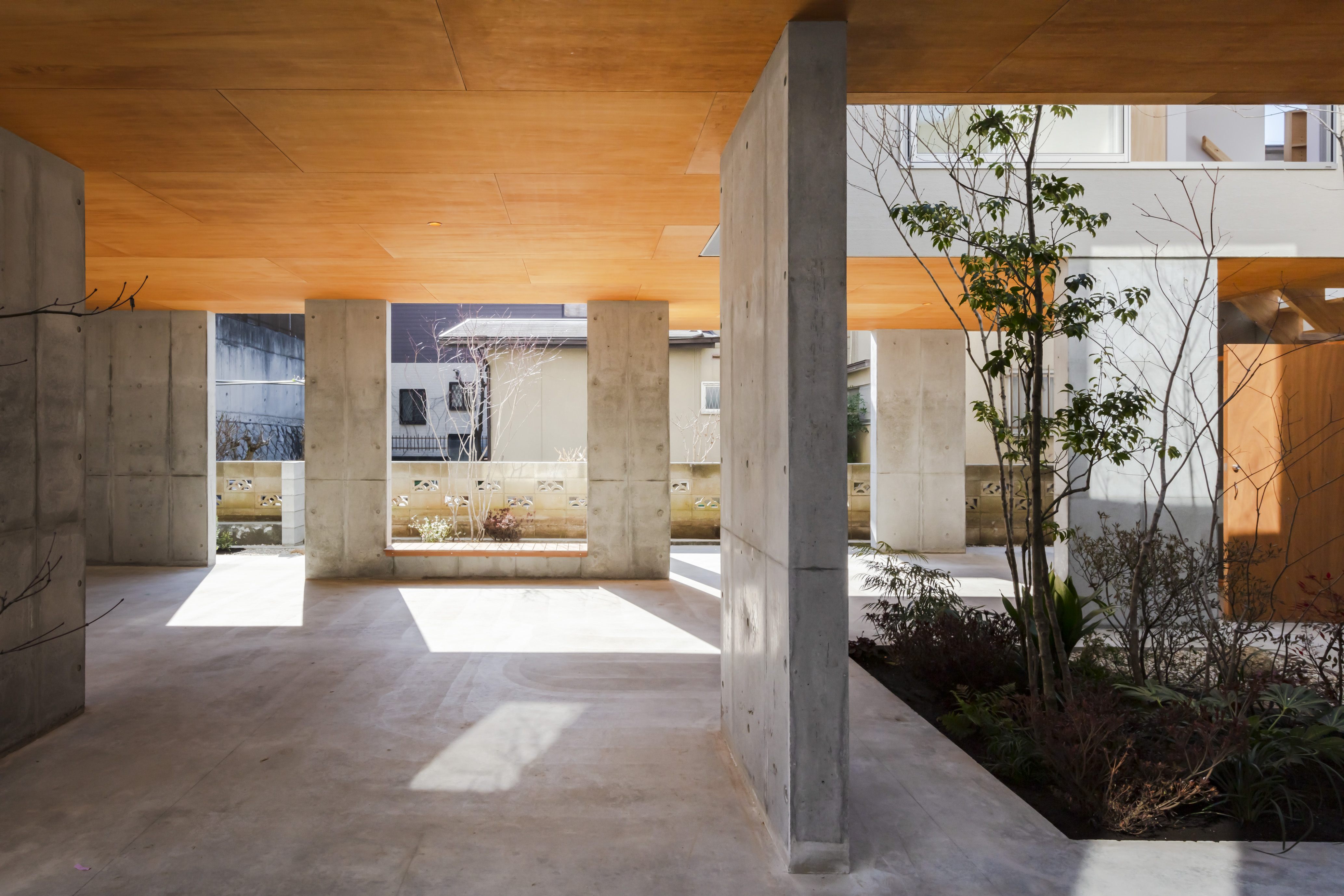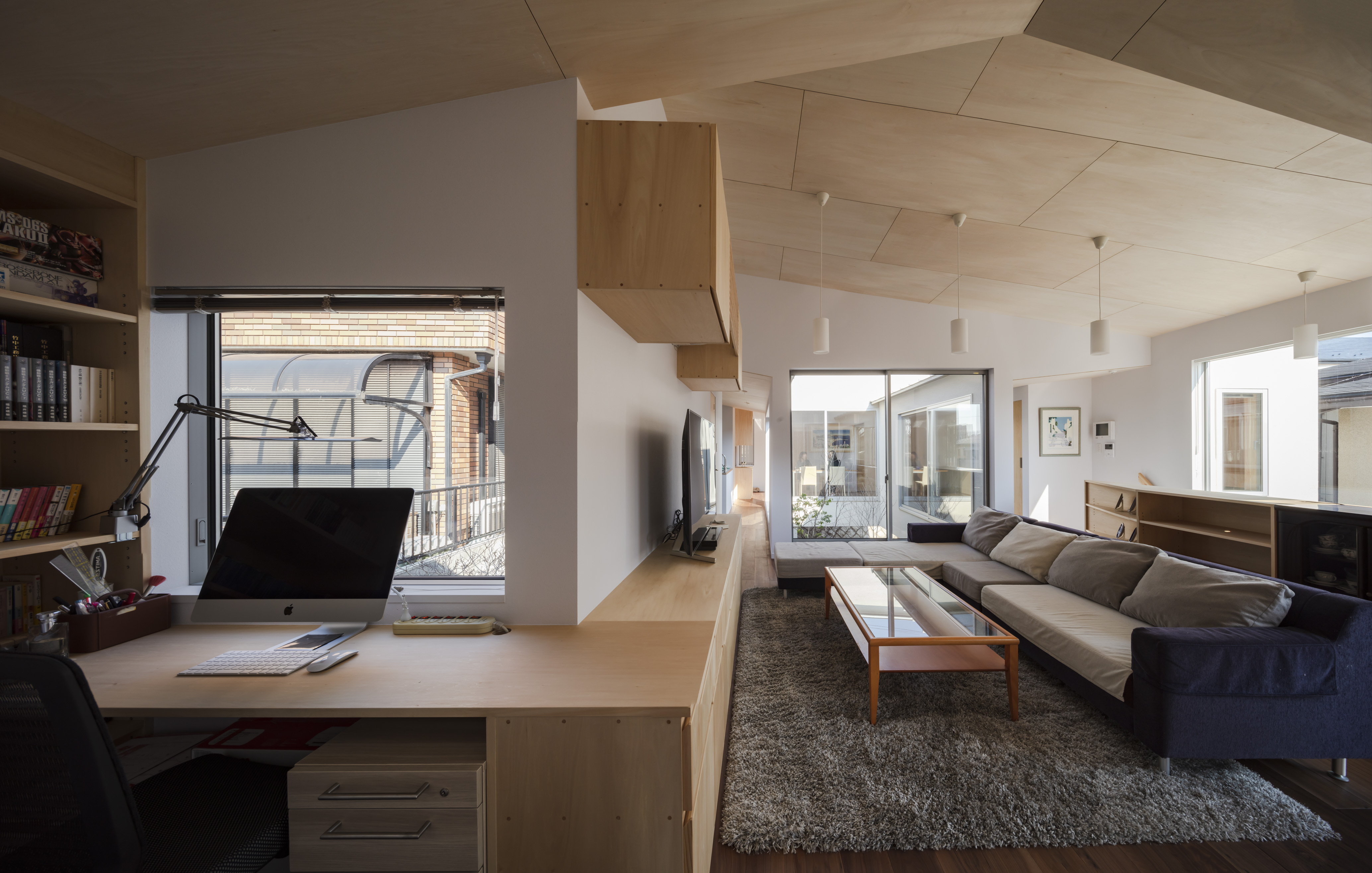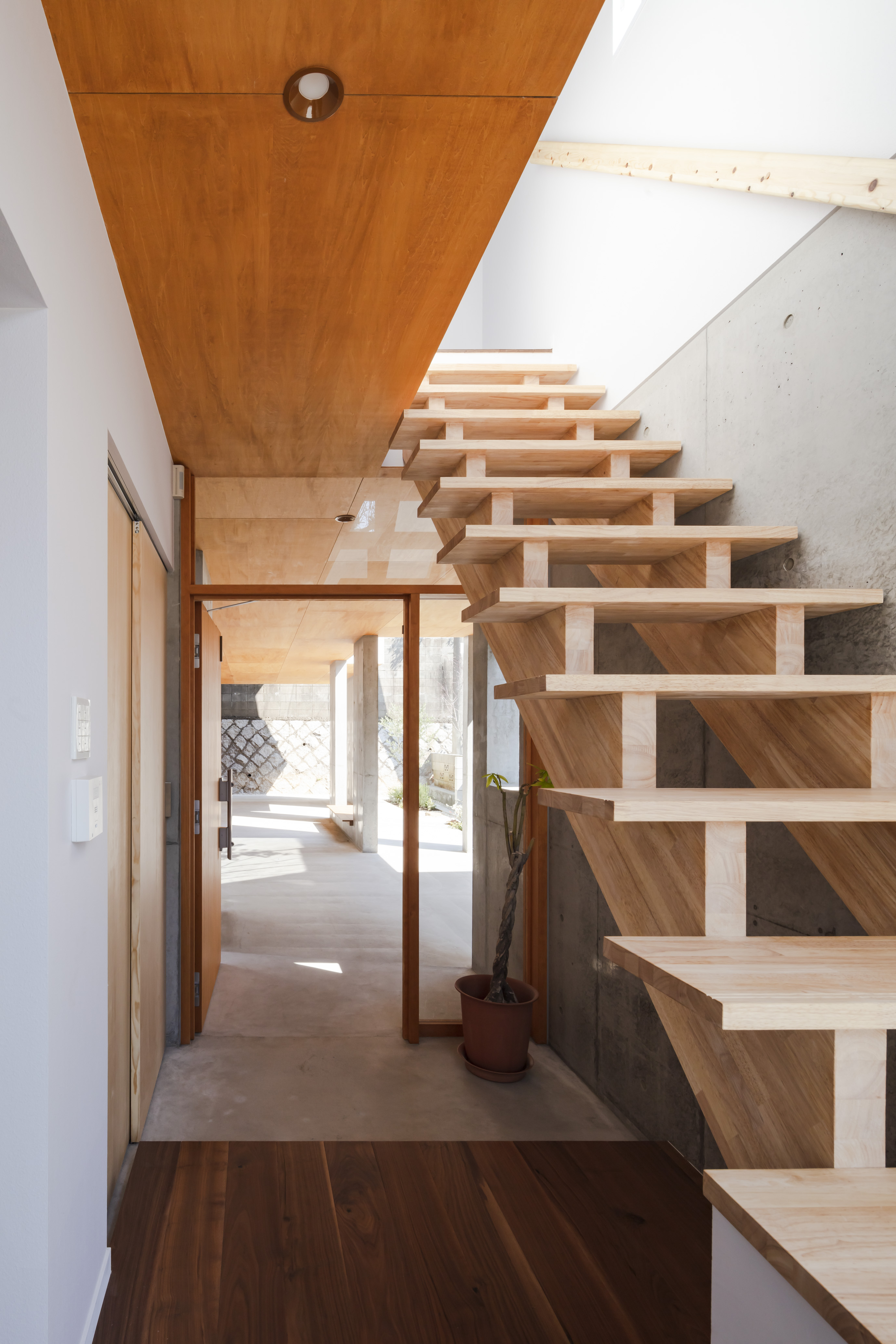 PHOTO / nao takahashi