ARCHI-CLE
十文字町の家_石川素樹
House in Jumonjimachi_MOTOKI ISHIKAWA ARCHITECT AND ASSOCIATES INC. Motoki Ishikawa
固有の条件に対して
点在する農家と山並を望むことができる、広大な水田に囲まれた約1000平米の敷地に建つ。敷地がある秋田県の横手盆地は、冬が長く夏が短い有数の豪雪地帯である。盆地がゆえに、夏は高温多湿、冬は低温多雪で、年間を通して曇天率が高いことから、いかに日照を確保するか、また限られた予算で大きい敷地面積をどう活用するかが課題であった。
それらに対し、車庫・日照を確保するサンルーム、住空間を、同じ構成の2間角ユニットの組み合わせで解決を図った。ユニット下の基礎は、単純な布基礎を短辺のみに並べて基礎量を軽減すると共に、多湿に対する床下の通気を確保し、さらに屋根から落とした雪に対する雪囲いを基礎間に収納できるようにした。
木造部は部材の種類と量を限定して、土台柱、桁、羽柄材をそれぞれ同寸法材とすることで加工の合理性を高め、この気候に見合う断熱材と透湿防水紙で切れ目なく包める、雪を落とす勾配の大屋根をかけただけの簡素な形状としている。表面の突板が厚いラワン合板で仕上げた真壁の構成は、地場の大工で容易に作り上げることが可能で、雪による工事の中断も起こるこの場所で、低コスト短工期を実現した。
各室間には客間や子供の遊び場、夫婦のスペースでもあり、緩衝地帯としての役割も果たすサンルームを挿入している。
そこに、水平や垂直パネルと脱着可能な中空ポリカーボネートを入れる位置の操作で室と光の明暗による奥行きをつくり、同じ架構のさまざまな用途の空間を連続させることで、東西に50mと長い敷地を最大限に活かした。
簡素な低コストユニットは増やすことも減らすことも容易なことから将来の対応もしやすい。地方都市特有のゆとりある敷地と限られた予算に対し、地場の材料や職人達で十分つくることができ、地域固有の条件にも将来にも対応できる。厳しい環境や固有の条件から導かれた、削ぎ落とされた建築が持つ普遍性を考えた。
構造担当 / 森永信行_ mono
竣工日 / 2019年
構造・構法 / 木造
敷地面積 / 941.71㎡
建築面積 / 158.99㎡
延床面積 / 132.49㎡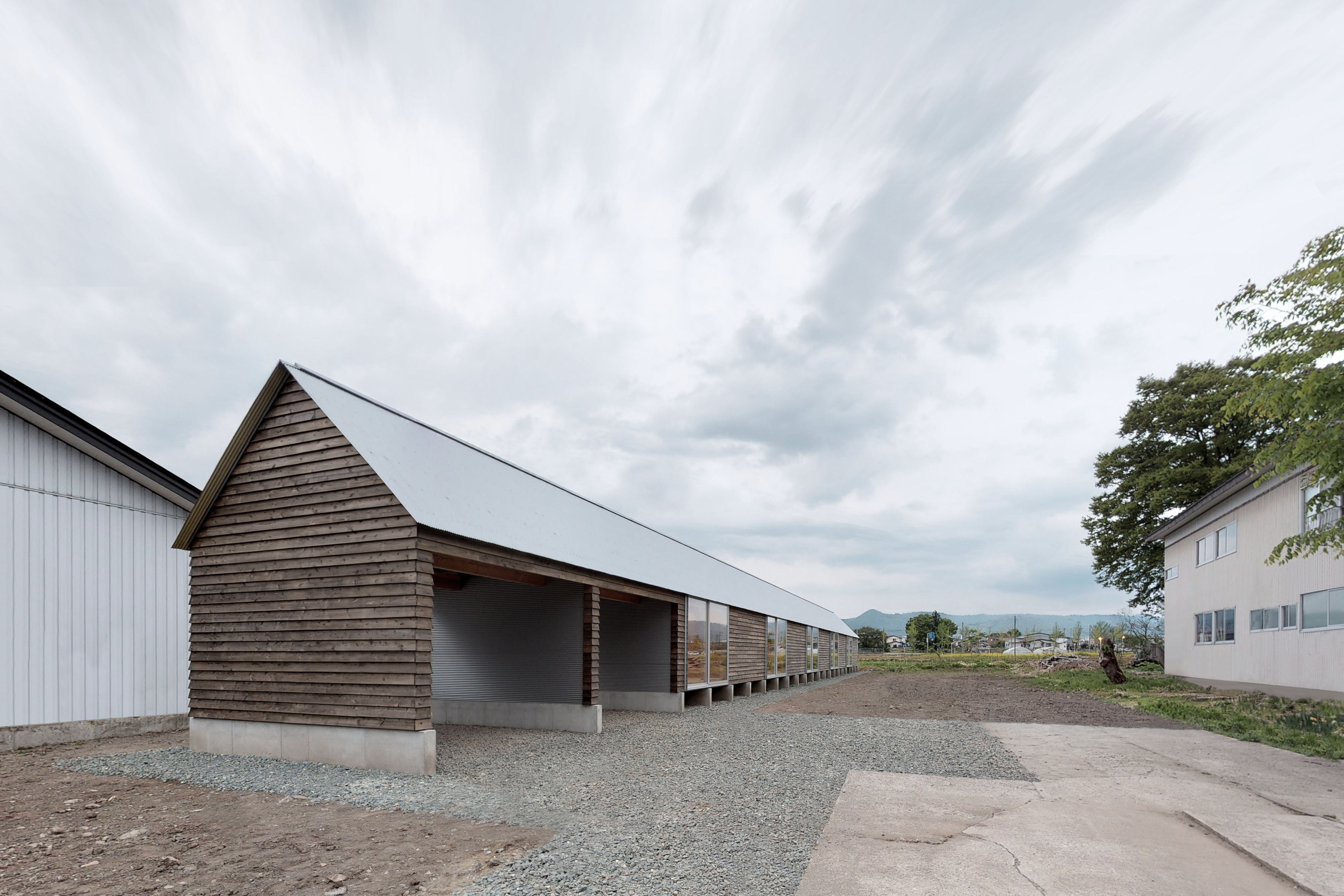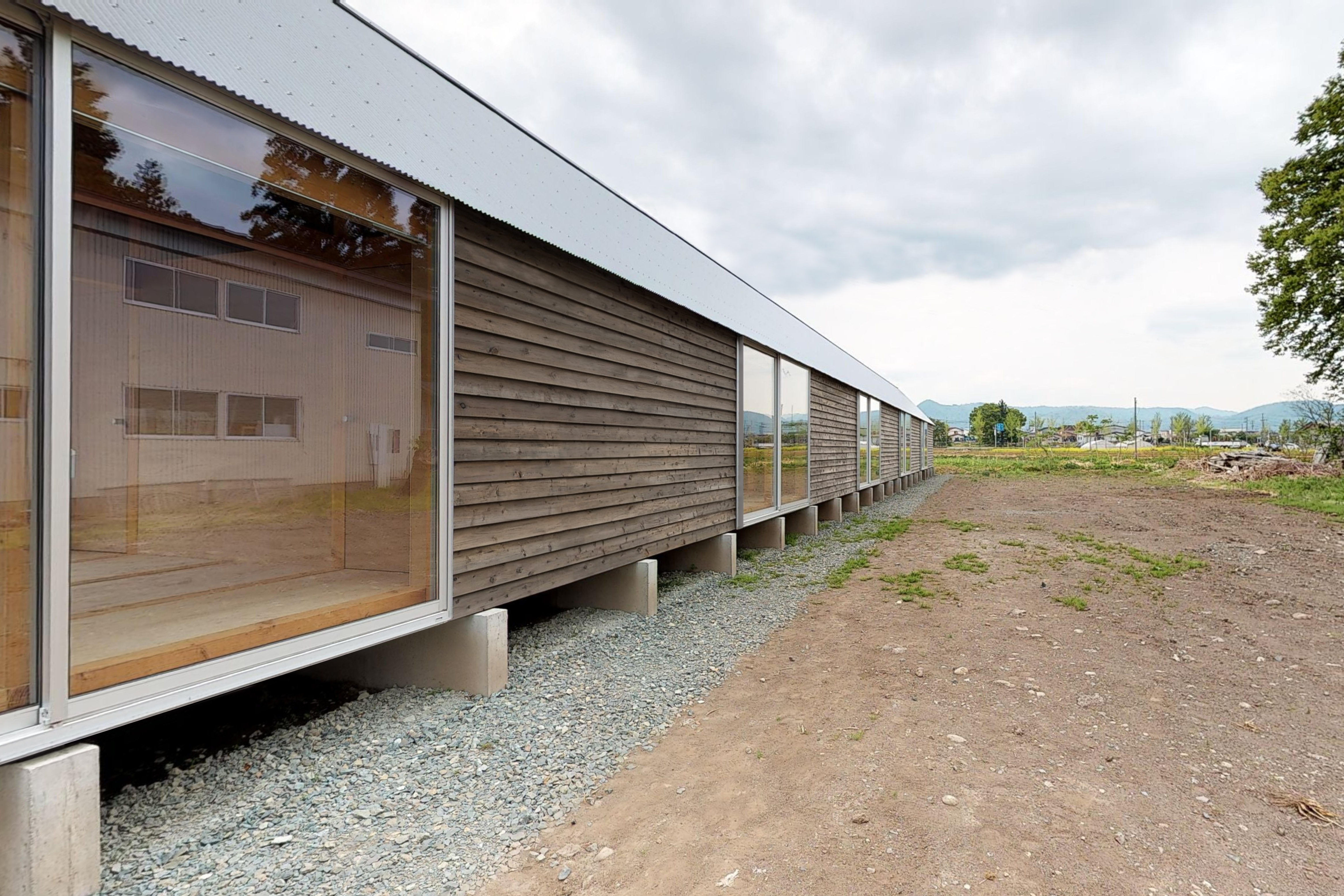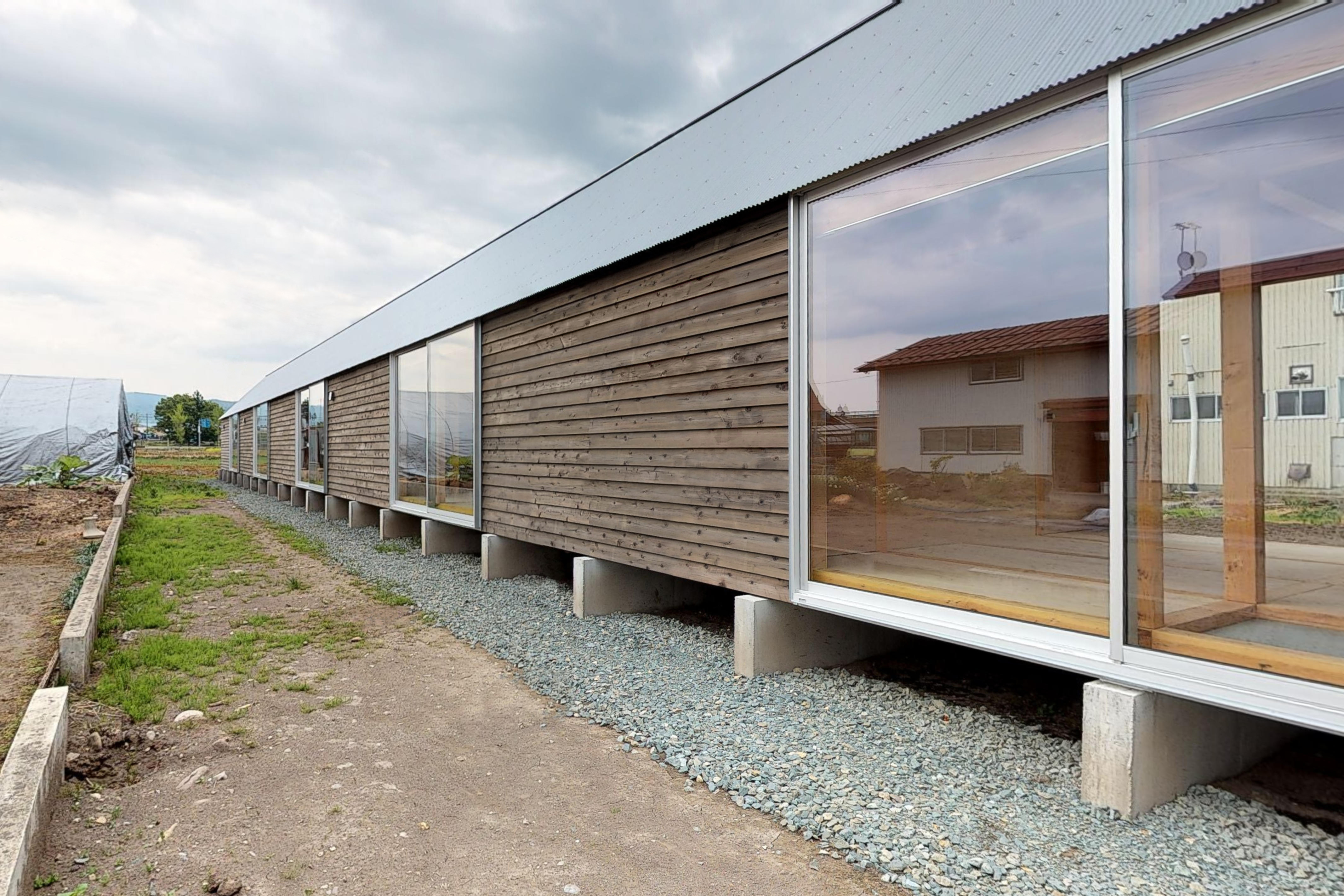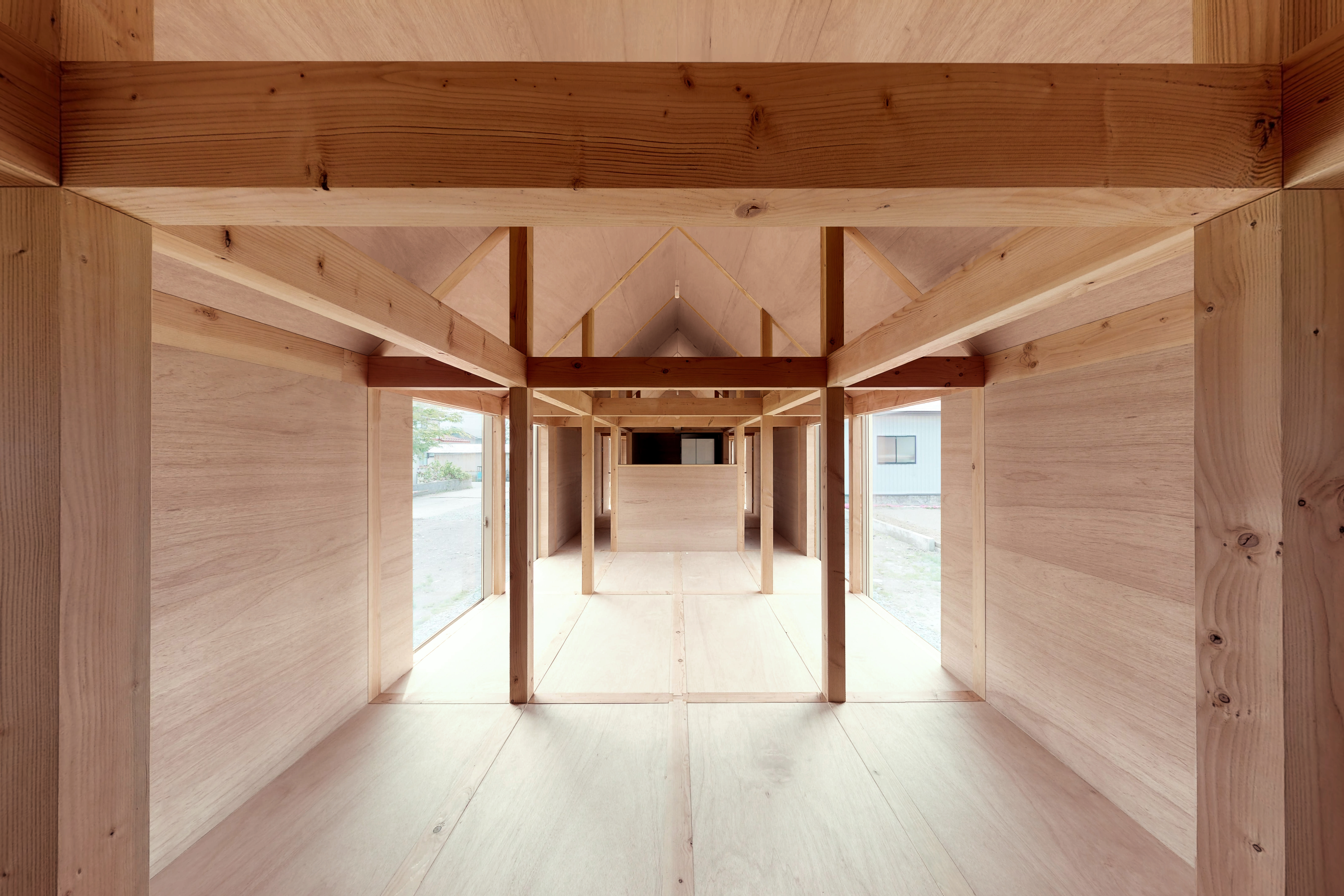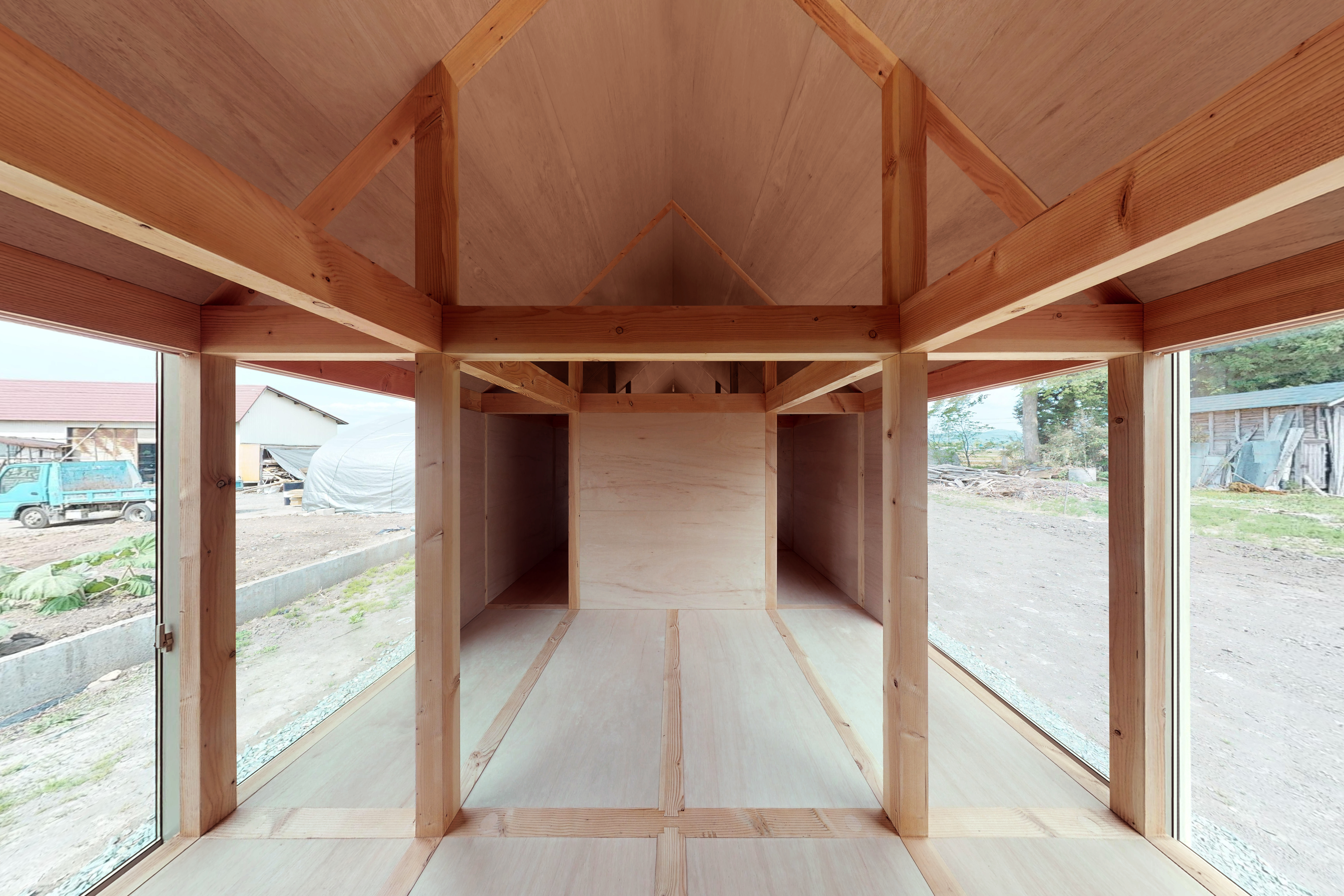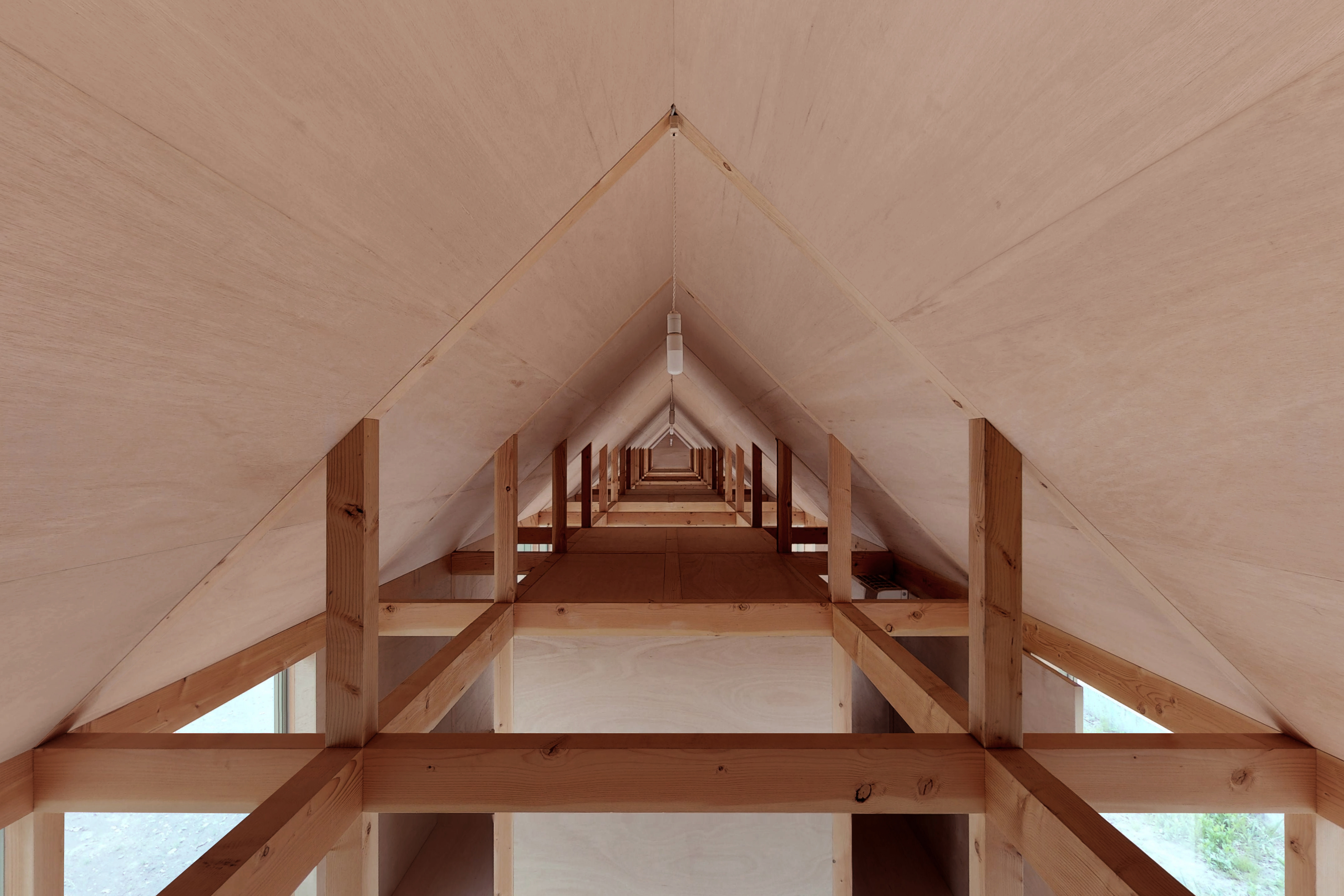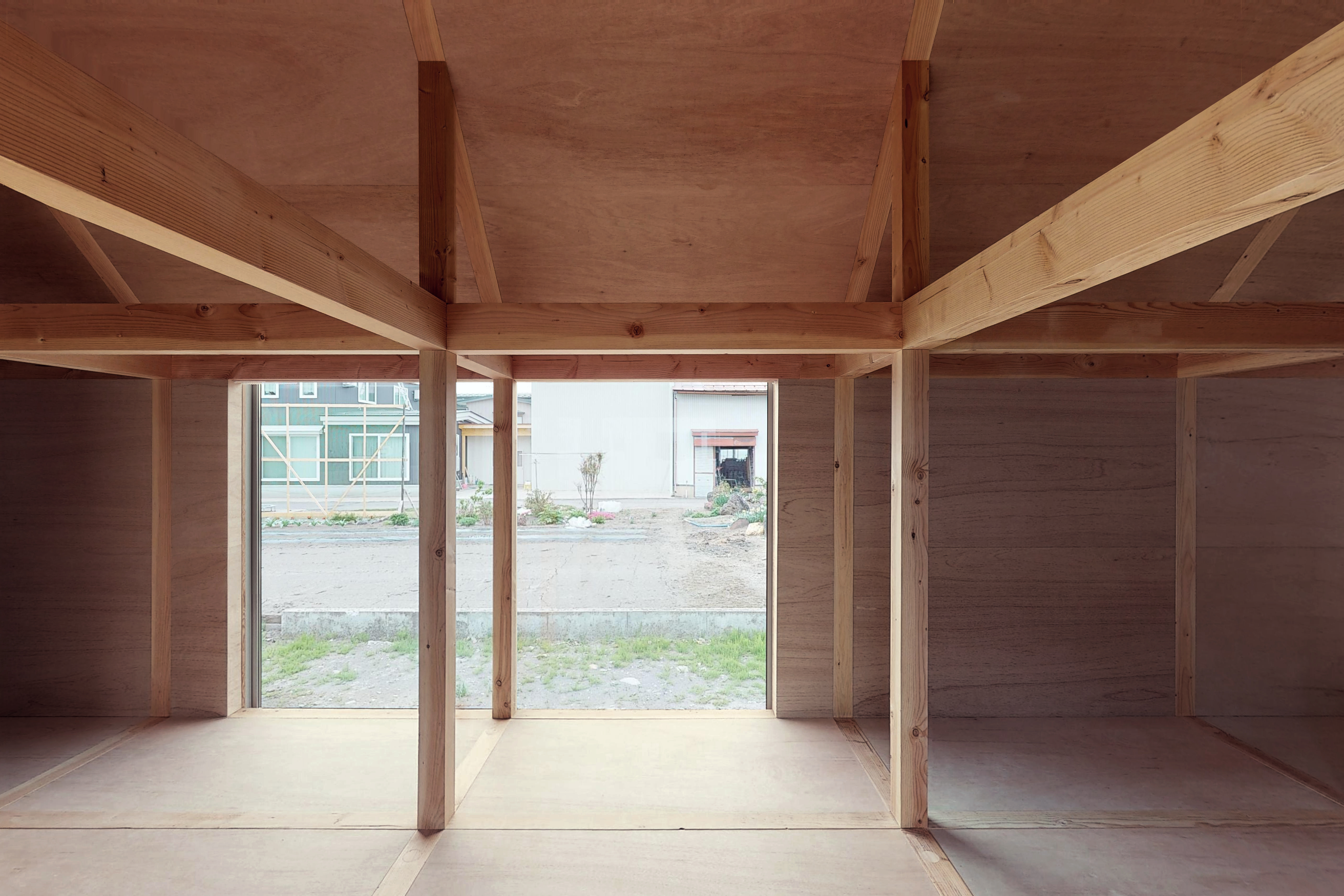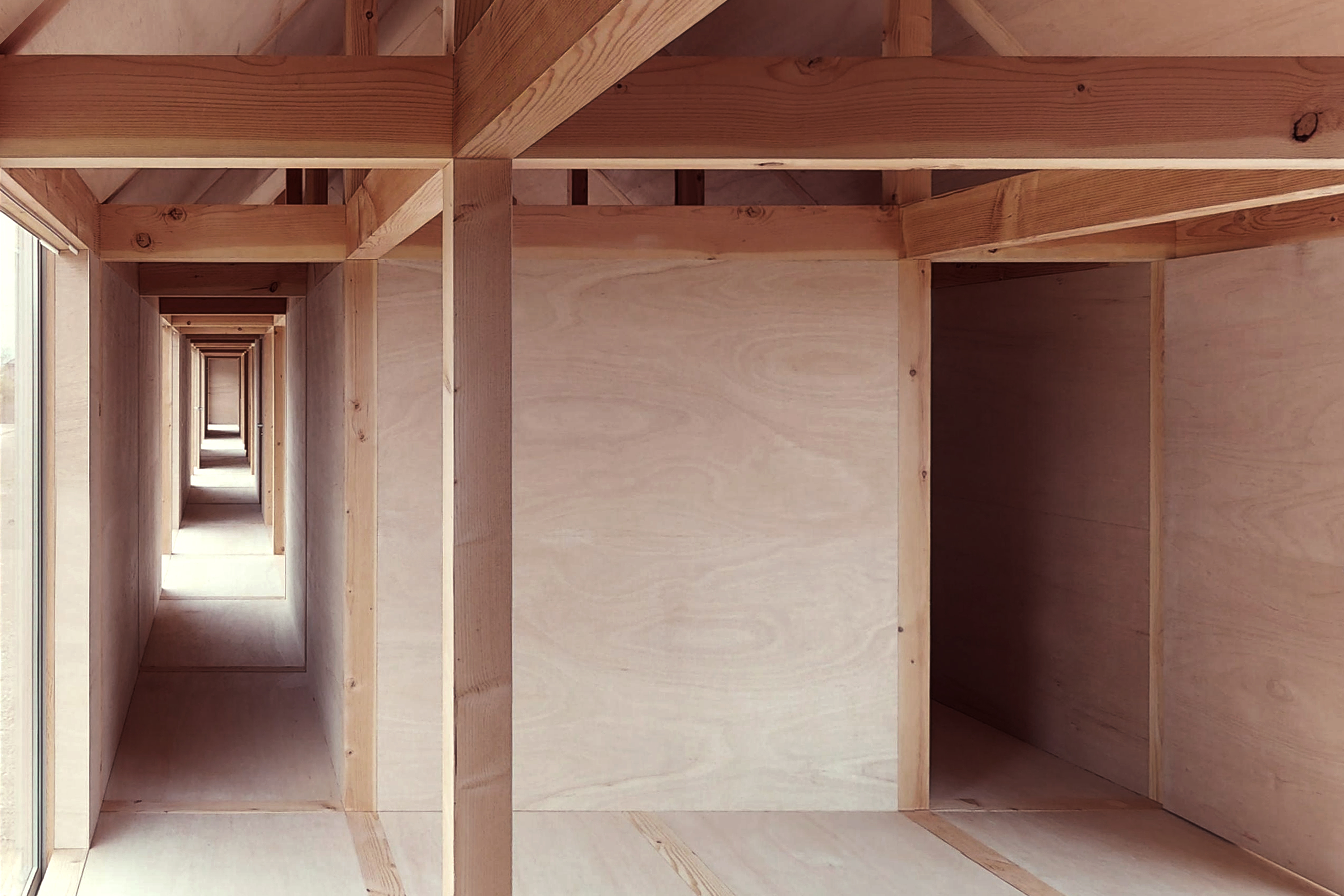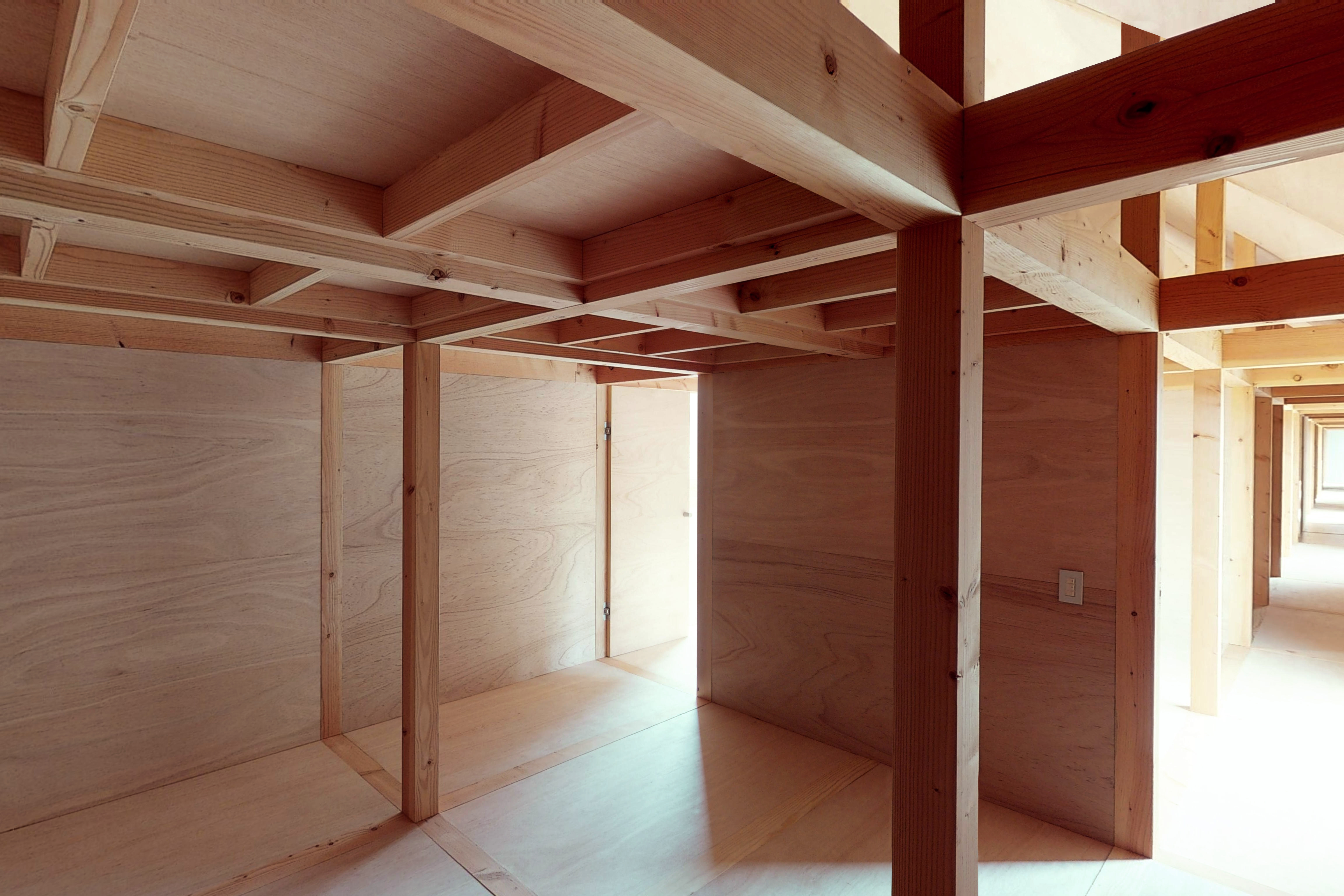 Architecture for Specific Conditions
Yokote Basin in Akita Prefecture, which is approximately 1,000 square meters, surrounded by enormous rice fields overlooking scattered farmhouses and mountains. It is one of the areas that have the heaviest snowfall with long winters and short summers. There was a challenge of how to utilize such a large site area due to its hot and humid summer and cold and snowy winter, which is a climate characteristic of basin, with limited budget.
The solution was to assemble the garage, the sunroom, and the residence with all same two-angle corner units of the same configuration. Simple cloth foundations were arranged only on the short sides to reduce the amount of foundation, and completely ventilated the floor under the humid condition, and made it possible to install and store the snow enclosure against snow dropping from the roof. By limiting the types and amounts of the wooden part, and make the sill/column/beam in same dimensions, the simplicity of the processing is enhanced, and it enabled to simply the roof, which can be wrapped seamlessly with insulation and moisture-permeable waterproof paper suitable for this climate, and drops snow. The construction of the traditional wall with exposed timber pillars made of lauan plywood with a thick veneer can be easily made by local carpenters, thus enabled a low-cost and short-period construction, where construction is often interrupted by snow.
Between each room, there is a sunroom that serves as a buffer area, a space for guests, a playground for children, and a space for married couples. Horizontal and vertical panels and detachable hollow polycarbonate can be inserted there to create depth with light and shadow. By creating the space for various uses of the same frame continuously, we maximized the use of this long site, which extends 50 meters from east to west.
These simple and low cost units are easy to increase or decrease, which means they are easy to handle in the future. On top of that, they are suited for peculiar local conditions such as spacious site or limited budget, because they are easy enough to be made by local craftsmen with local materials. We considered the universality of minimal architectures, which was derived from the harsh environment and the unique conditions.
Structural Engineer / Nobuyuki Morinaga_mono
Year / 2019
Main Structure and Construction / Wooden
Building area / 941.71m²
Building scale / 158.99m²
Total floor area / 132.49m²