ARCHI-CLE
「鮎の光明」by 丹羽優太
"Silver Lining by Catfish" by YUTA NIWA
鮎の光明
「月かげは入る山の端もつらかりきたえぬひかりをみるよしもがな」
これは方丈記の最後に書かれた句。俗世から離れ、一人下鴨で過ごした鴨長明は最後にこの句で、永遠の光は手に入らないのだろうかと詠んだ。方丈記は災害や疫病が頻繁に起きた時代の空気感を淡々と伝えるもので、そのリアリティーはどこかいまの時代にも通ずるところがあるように思う。近年も当時と同じく、多くの災害が猛威を振るい、いまも疫病が収まる気配はない。見えないものの恐怖は、人々の頭の中で大きくなり、時代に大きくのしかかる。こんな時代にはいつも黒い何かが現れる。蛇や大山椒魚、鯰など、身近にいる黒く大きな生き物が災害や疫病の原因とされ、絵や言葉で脈々と現代にまで伝わってきている。彼らはなぜ現れ、何を伝えたいのか。警告なのか、戸惑う人々を哨笑っているのか、はたまた、人々が苦難を乗り越えるための希望なのか。月影が山からまた顔を出し世界を照らすように、暗い時代の救いであることを切に願う。
東福寺光明院について
臨済禅の本山東福寺の中にある塔頭寺院 光明院。創建は1391年。
光明院にある禅庭『波心庭』と茶室『蘿月庵』は昭和の名庭を数多く手がけた重森三玲の作となる。
展示期間 / 2021.4.2-2021.4.18
延床面積 / 600㎡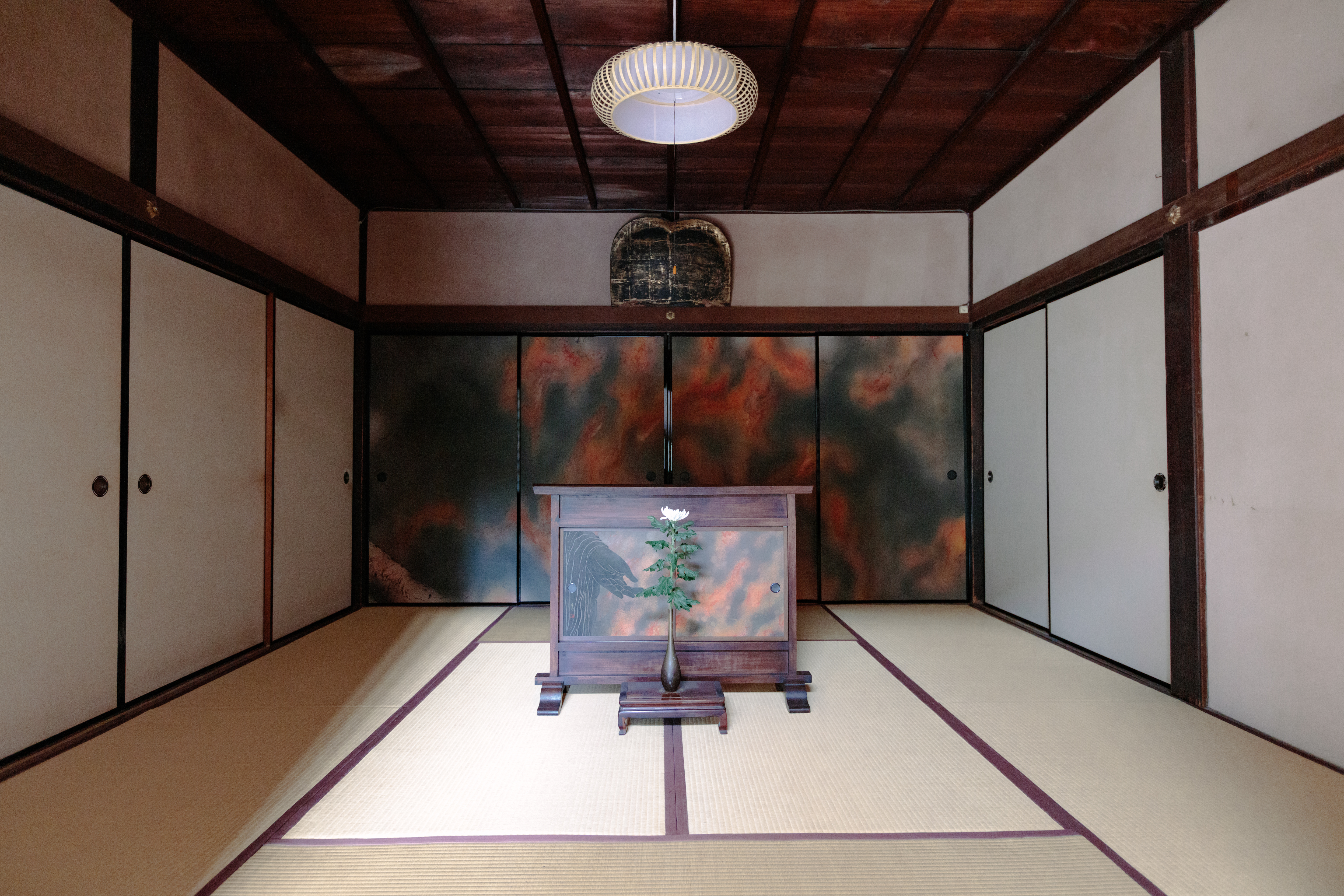 タイトル:炎下微笑図 大鯰列島図襖絵(西面)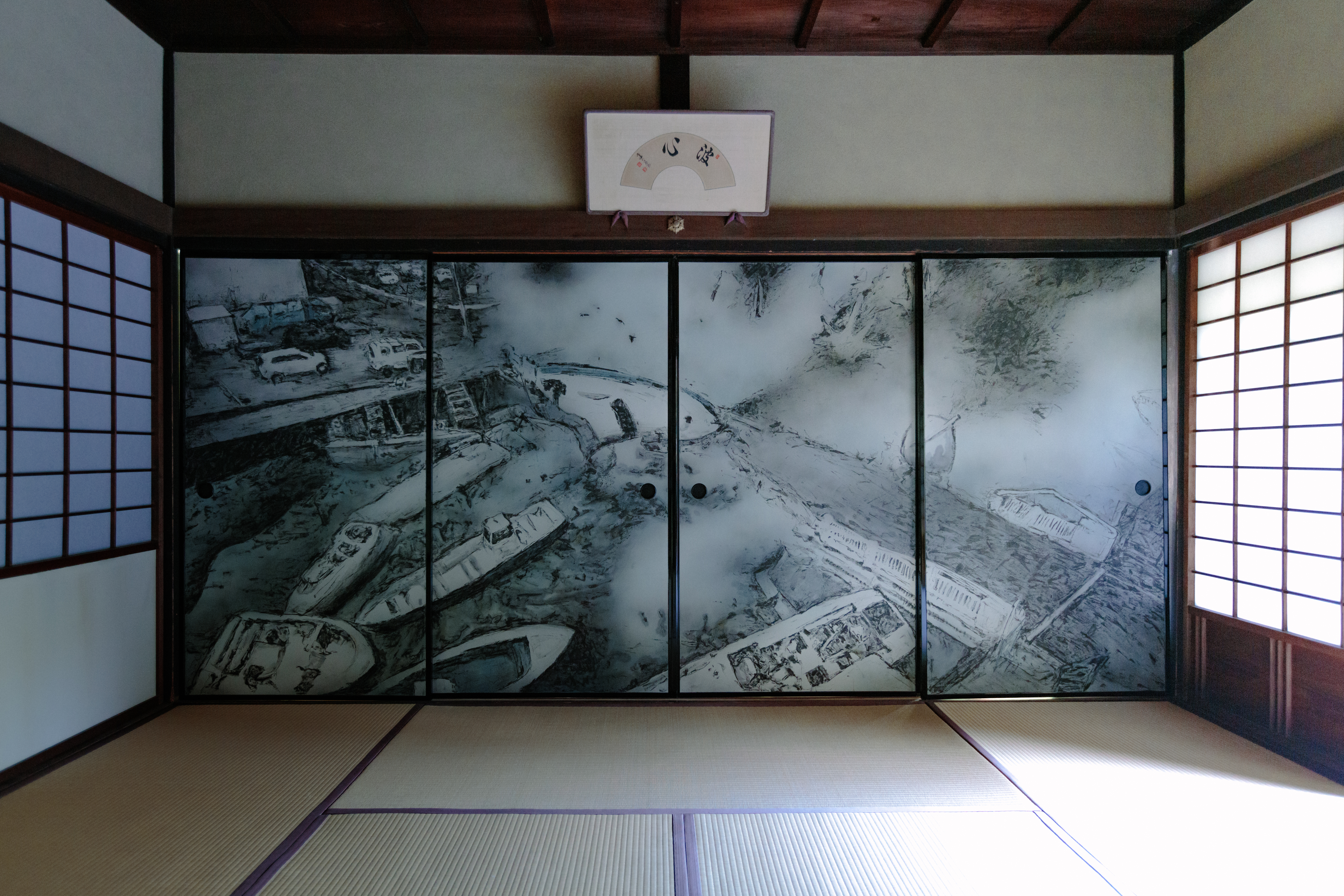 タイトル:大鯰列島図襖絵(東面)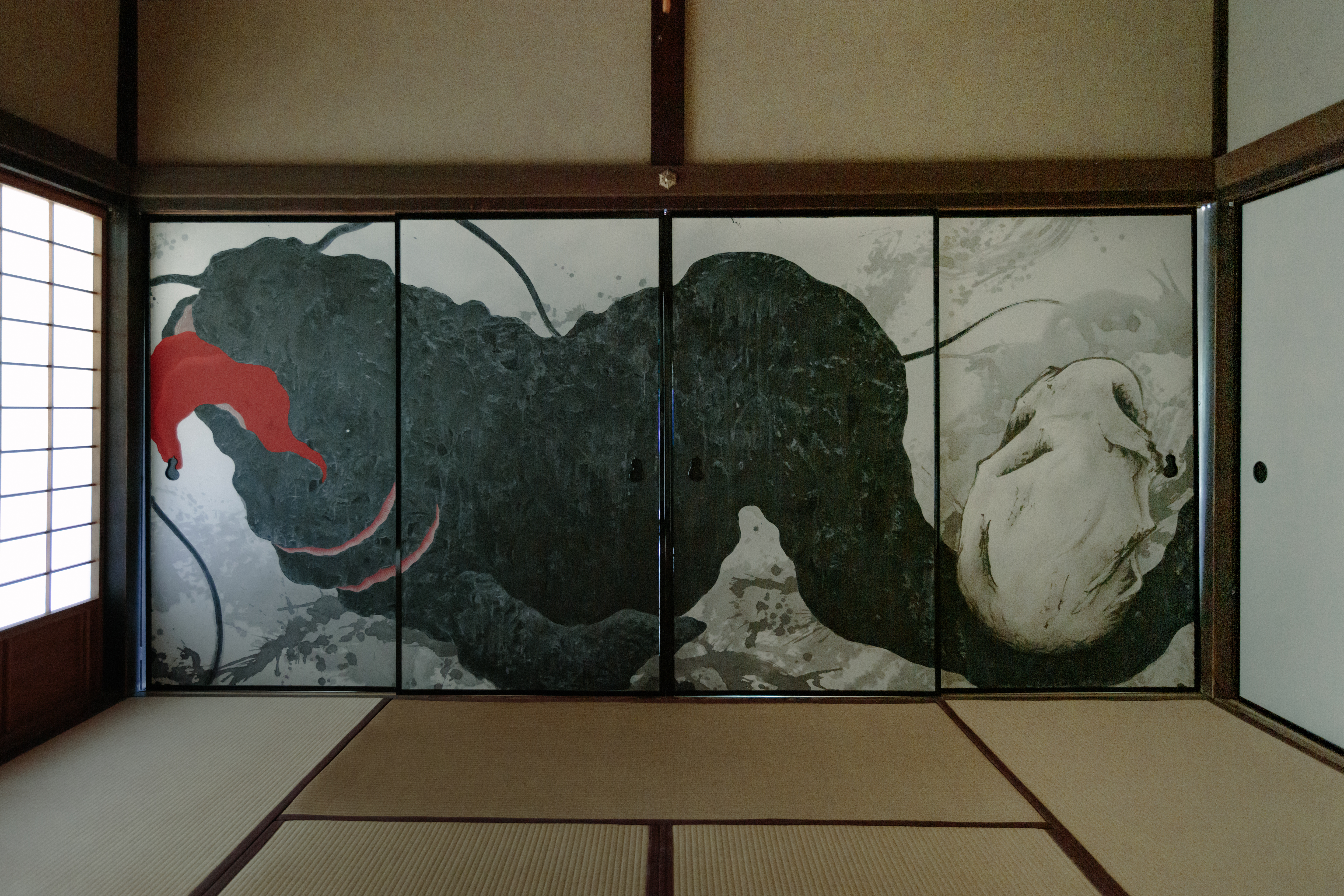 タイトル:大鯰列島図襖絵(香取神宮)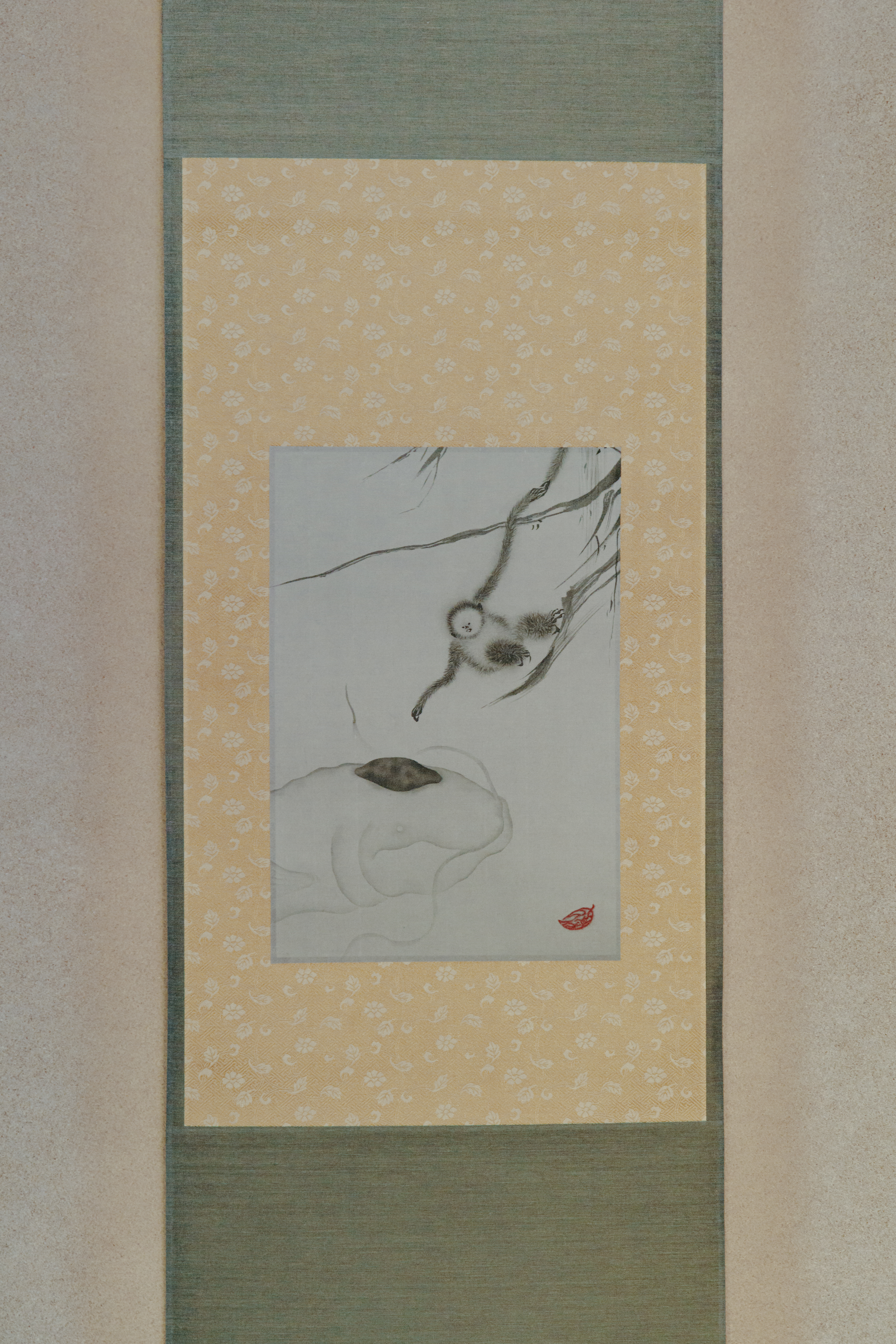 タイトル:猿猴取鯰図 部分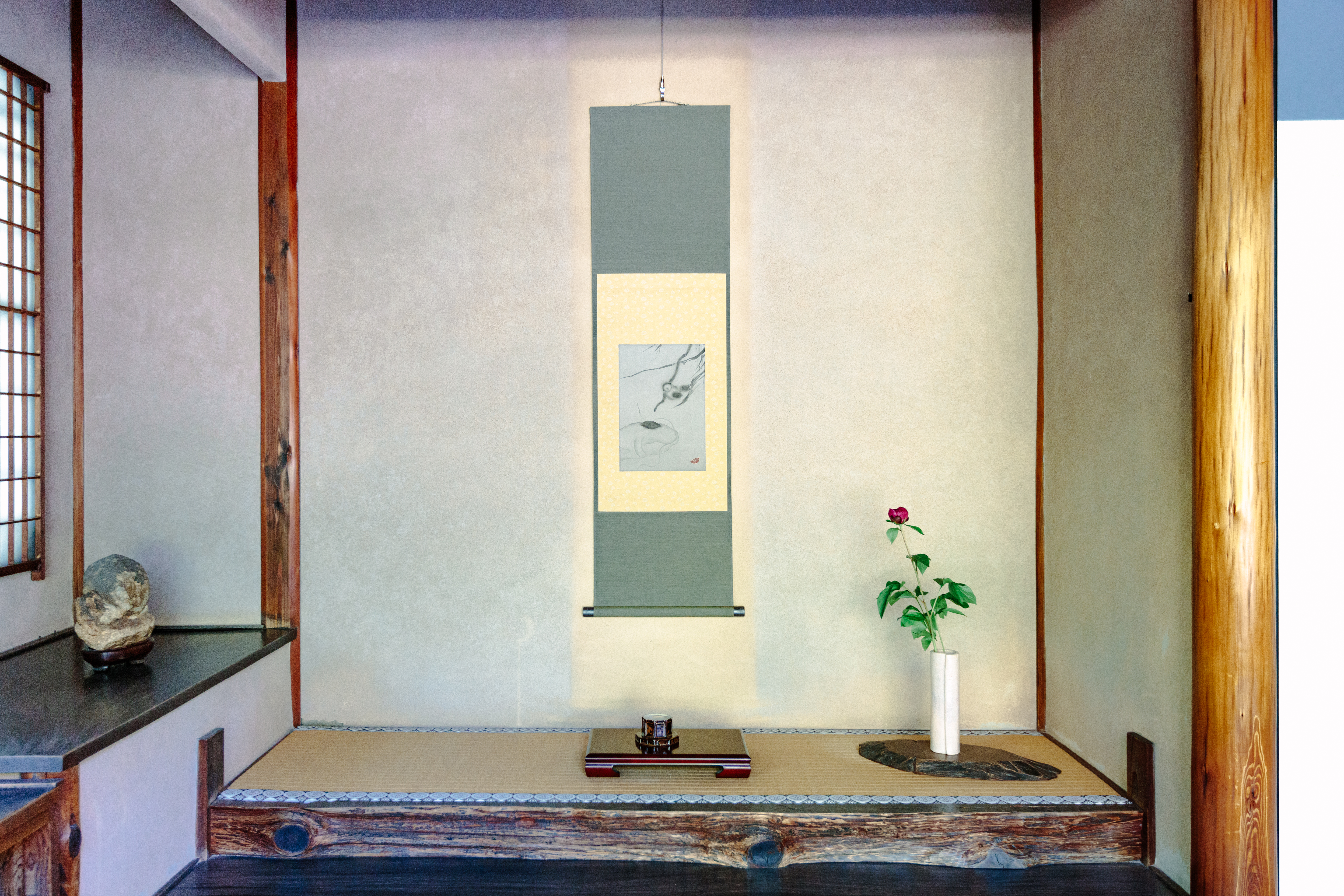 タイトル:猿猴取鯰図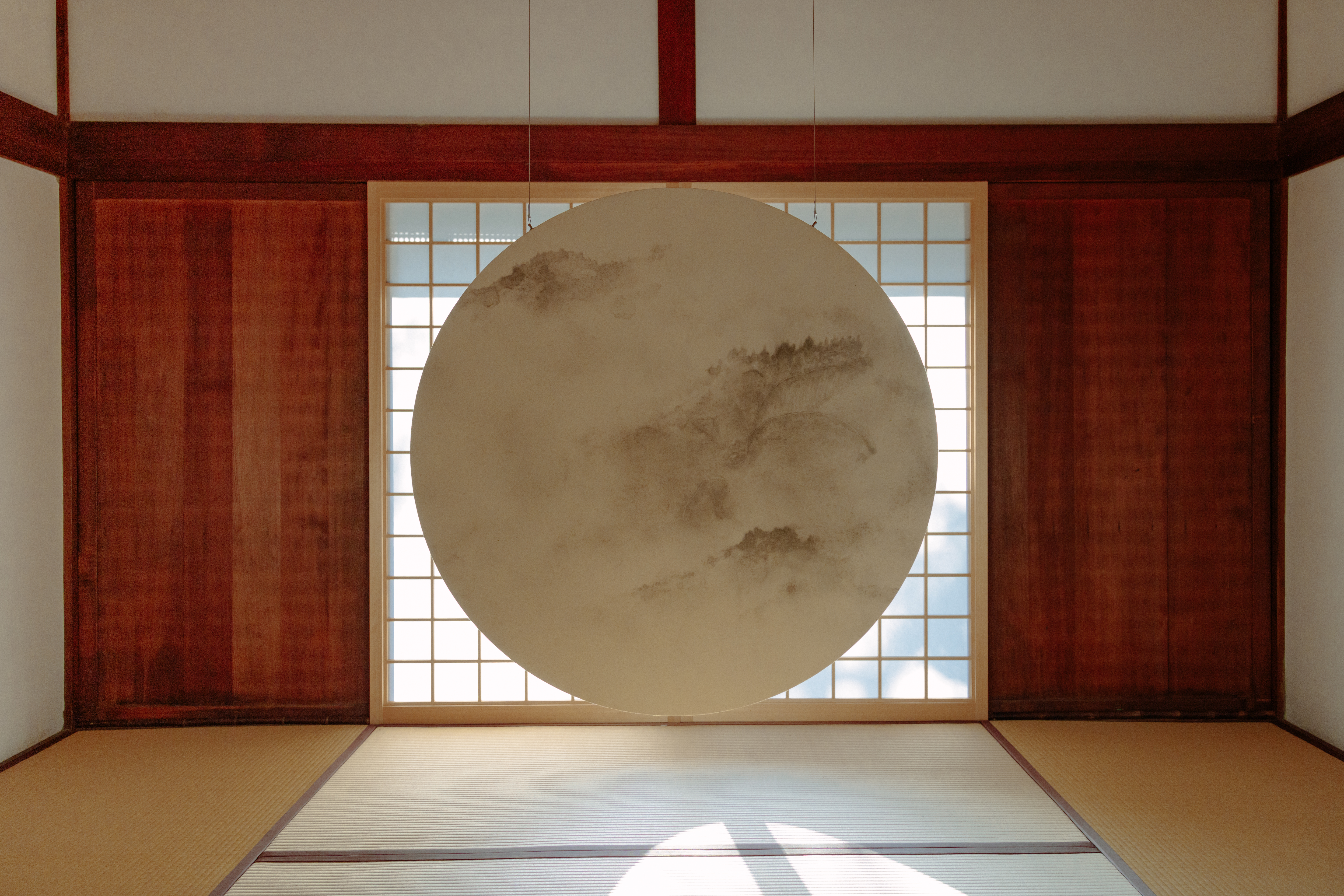 タイトル:東山水上行(山鯨)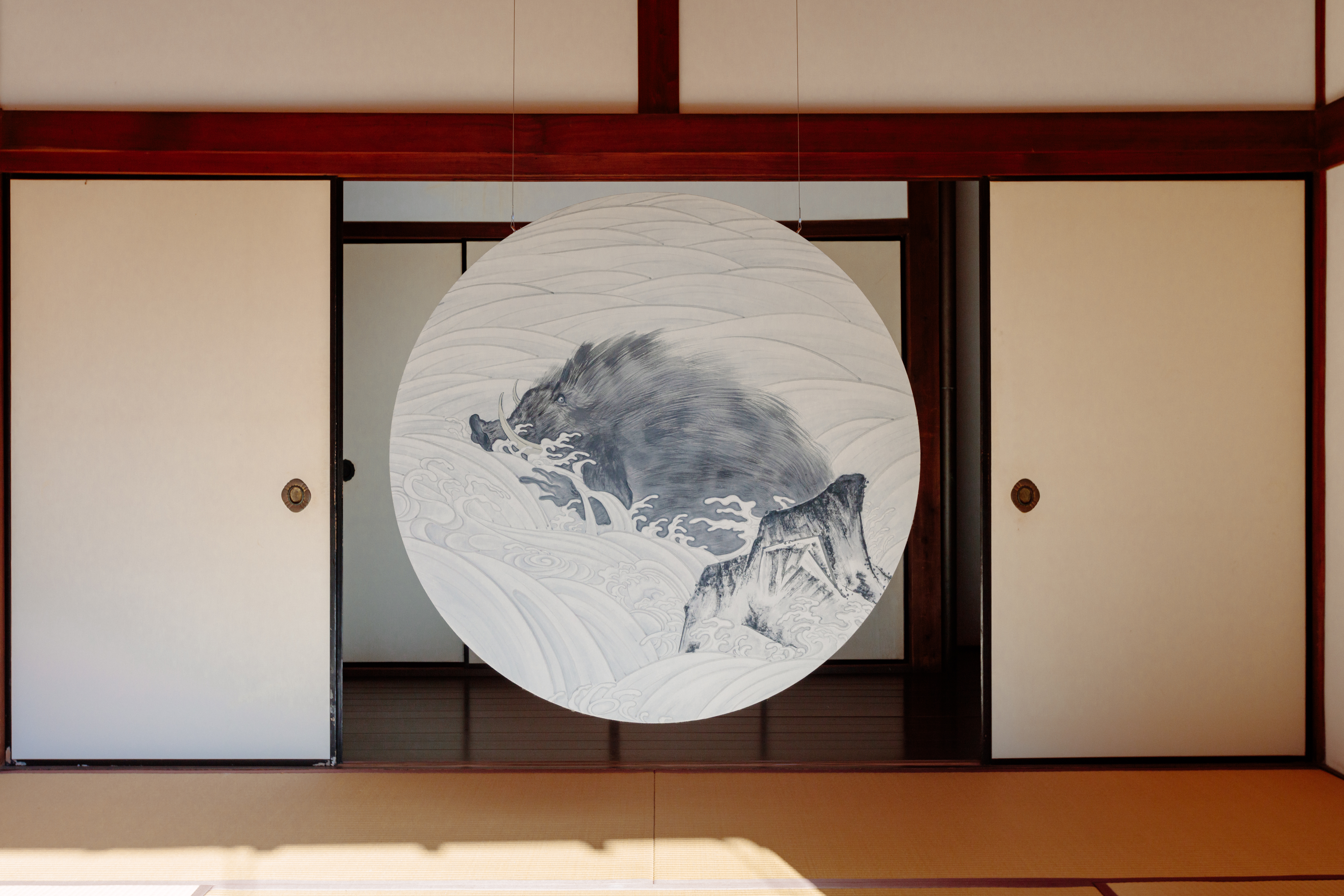 タイトル:東山水上行(海猪)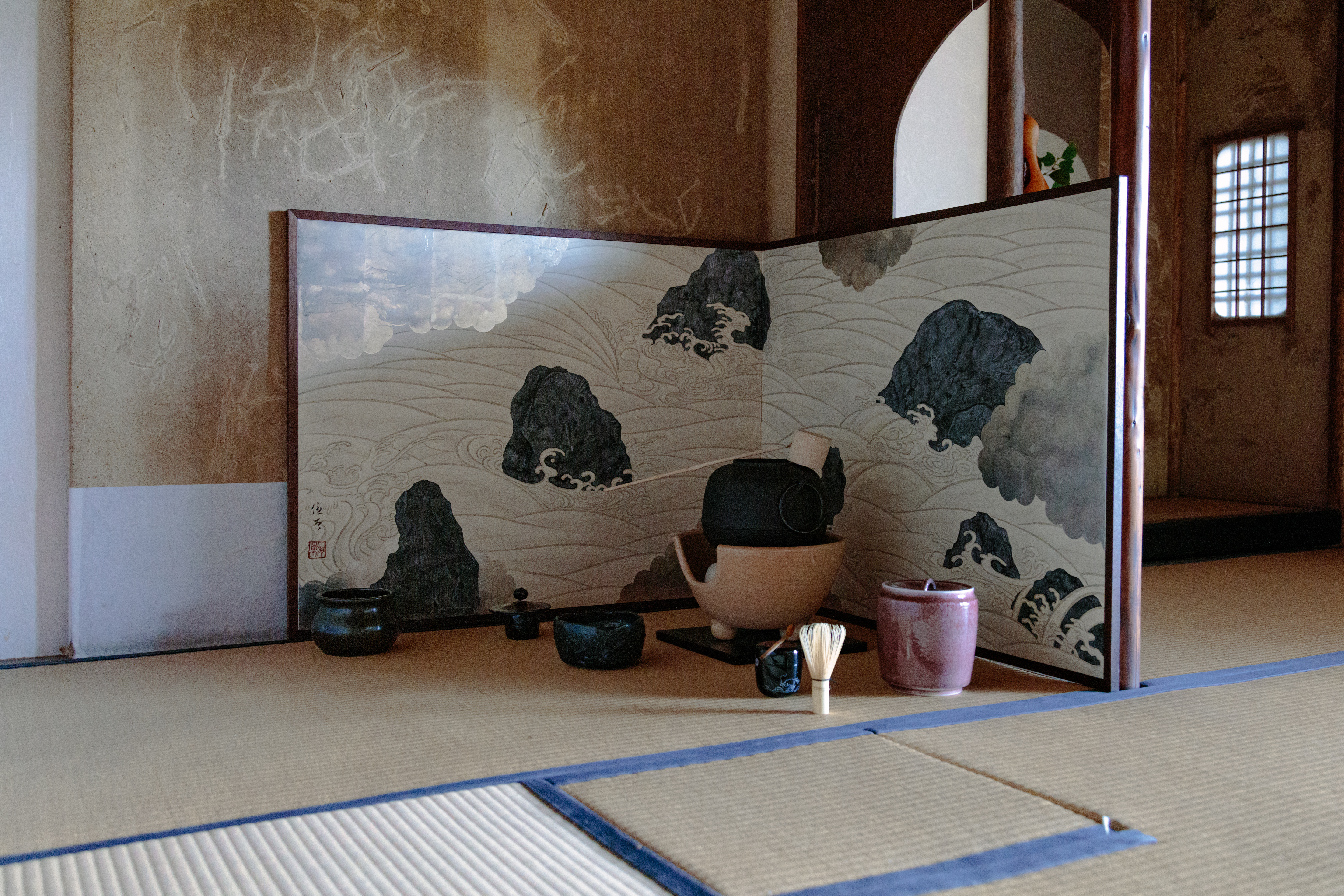 タイトル:月下波心図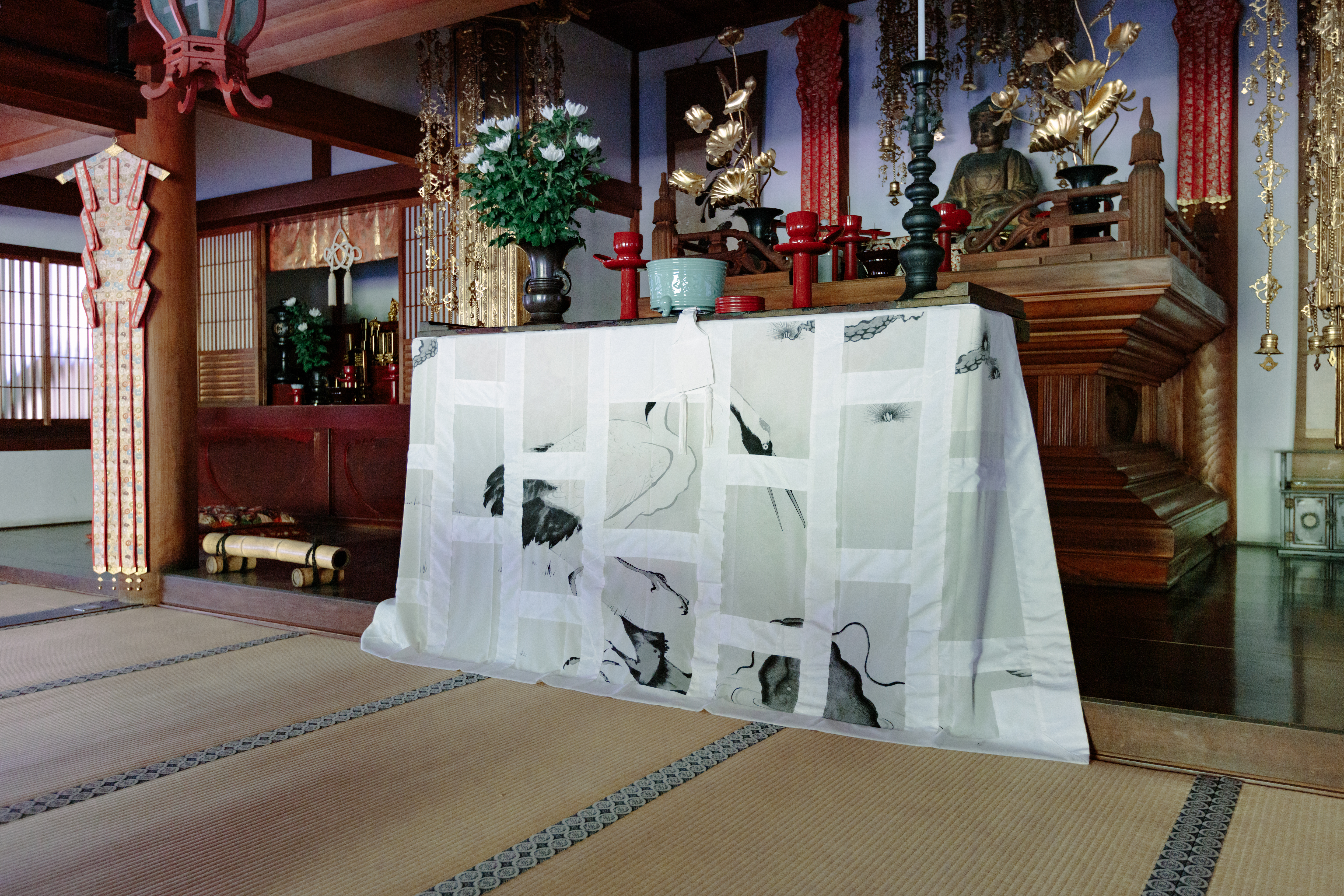 タイトル:松鶴鯰図
Silver Lining by Catfish
Alas! The mountain peak conceals the moon
Her constant light's denied to me a boon
This is the last verse of the Hojoki (commonly translated as "Record of the Ten-Foot-Square-Hut"), written by Kamo no Chomei, who lived alone in Shimogamo (northern Kyoto), secluded from the world. The Hojoki is a lyrical telling of successive natural and man-made disasters in 13th century Kyoto, and its depiction aligns with the precarious state of our world at the moment. In recent years, just as in those days, many disasters have been raging, and even now there is still no sign of an end to the pandemic. The fear of the unseen is growing in our minds, and something black always appears in times like these. Large black creatures, such as snakes, giant salamanders and catfishes, are believed to be the cause of disasters and pandemics, and we continuously see them through pictures and words to the present day. Why do they appear, and what do they want to tell us? Is it a warning, is it laughing at the confused people, or is it a hope for people to overcome their hardships? I sincerely hope that they are the salvation of the dark times, like the moonlight coming out of the mountains to light up the world.
About Komyoin Zen Temple
Komyoin is known as the sub-temple of Tofuku-ji Temple, one of the main temple of Rinzai Zen sect. Komyoin was founded in 1391, the Zen garden "Hashin-tei" and the tea room "Ragetsuan" in this property are the master works of Mirei Shigemori who is a prolific landscape artist based in Kyoto from the late 1920's.
Date / 2021.4.2-2021.4.18
Total floor area / 600㎡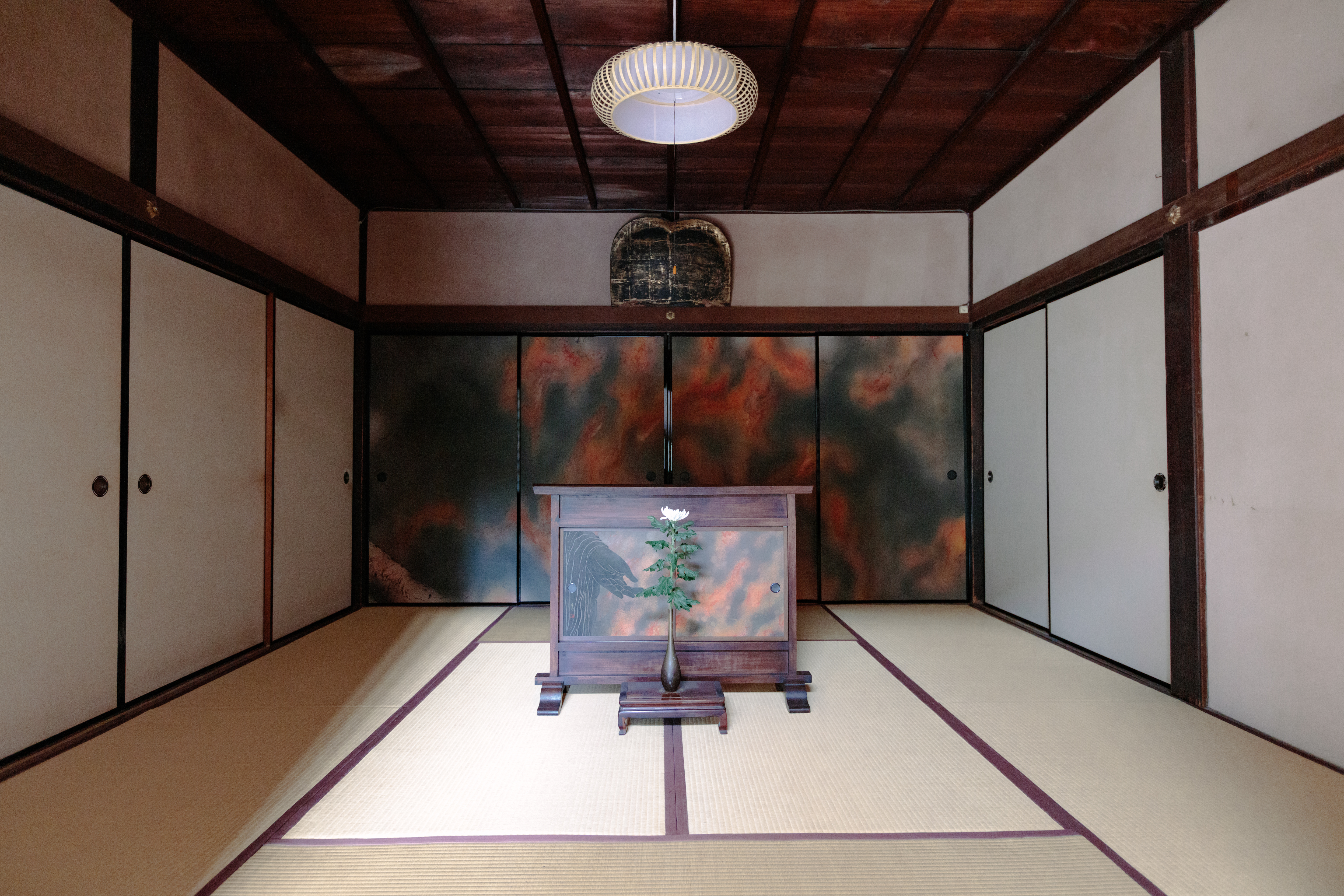 Title: Buddha's smile in the fire/Ōnamazu Shaking Up the Archipelago (West side)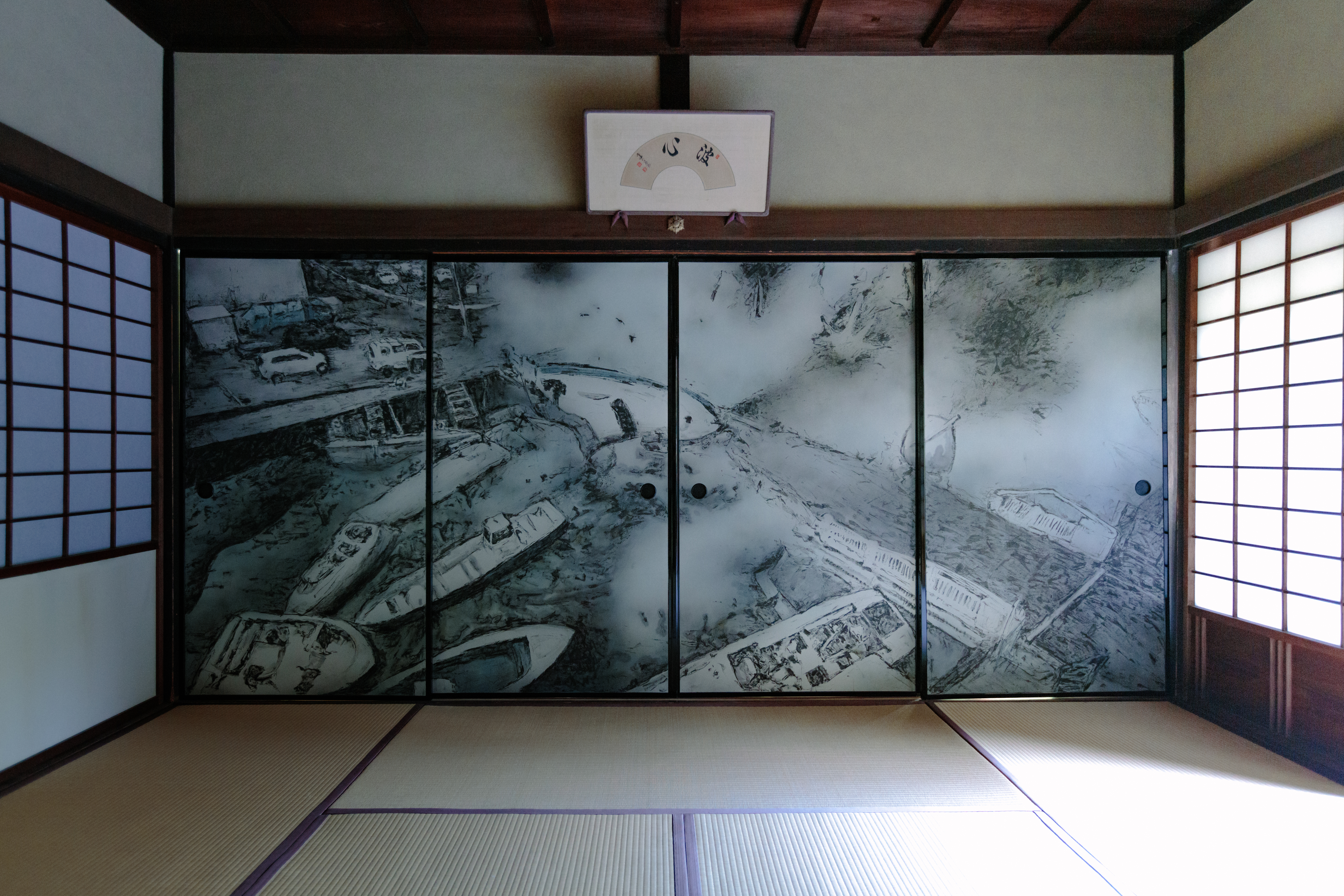 Title: Ōnamazu Shaking Up the Archipelago (East side)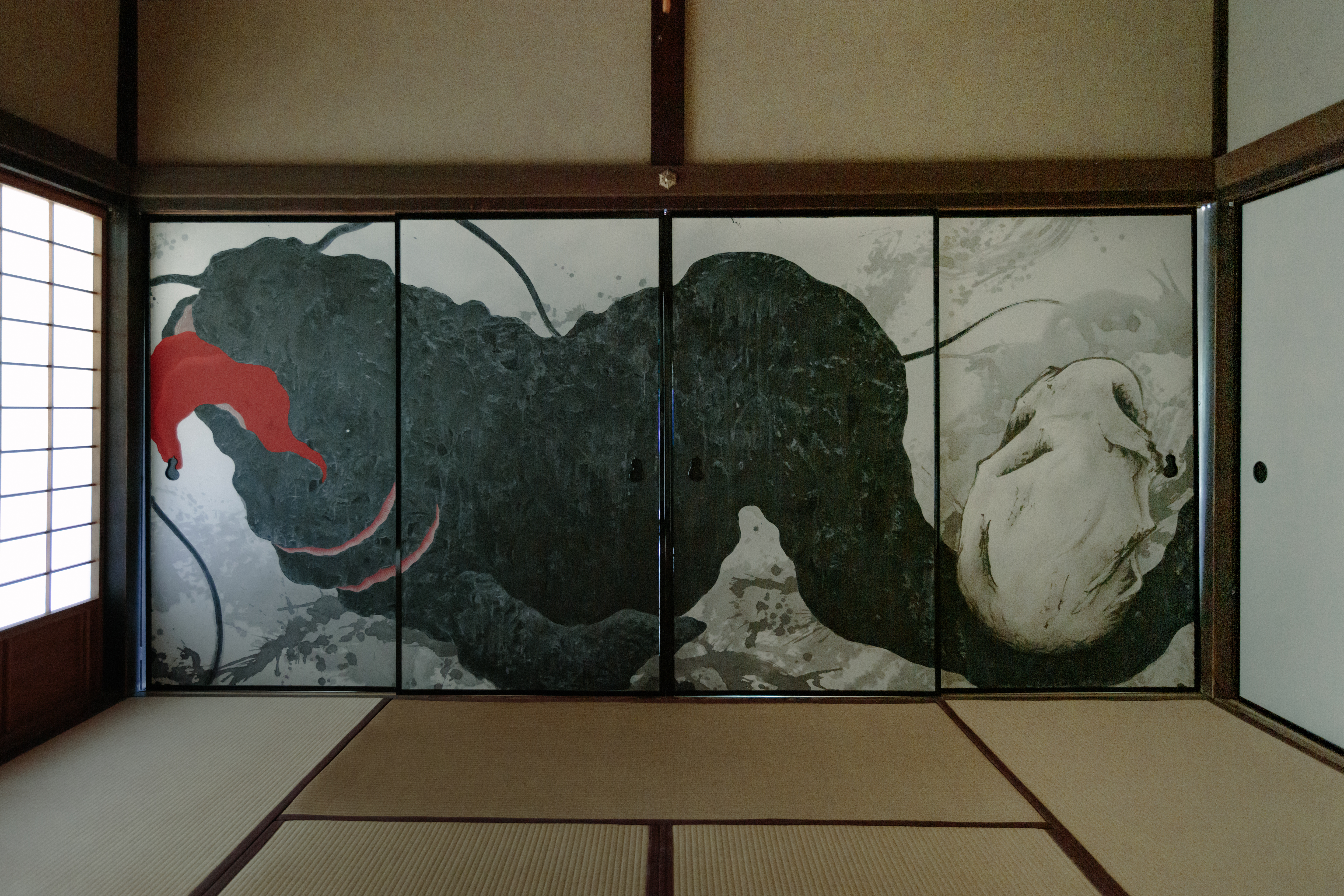 Title: Ōnamazu Shaking Up the Archipelago (Katori Jingu)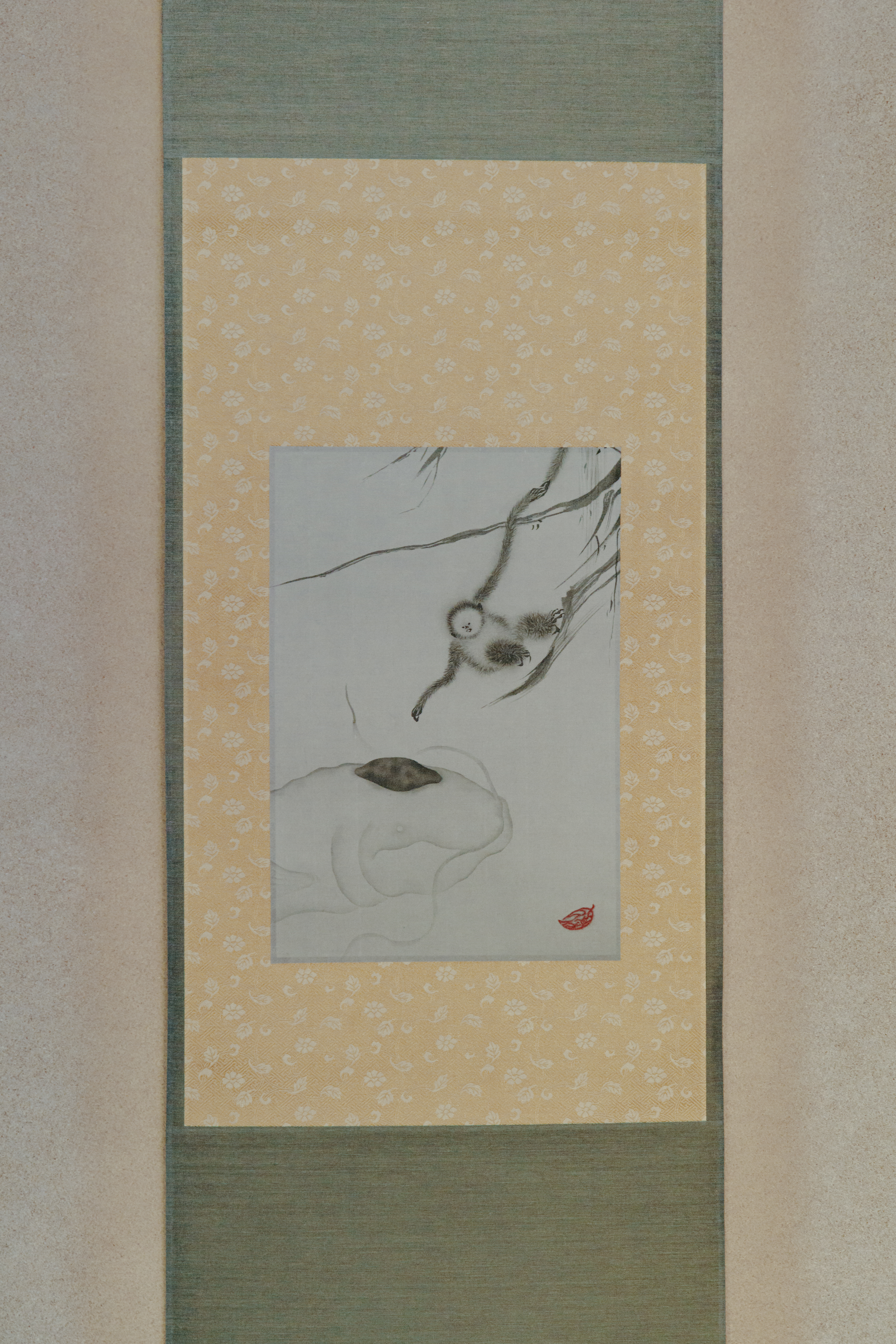 Title: Monkey reaching for the namazu (partial)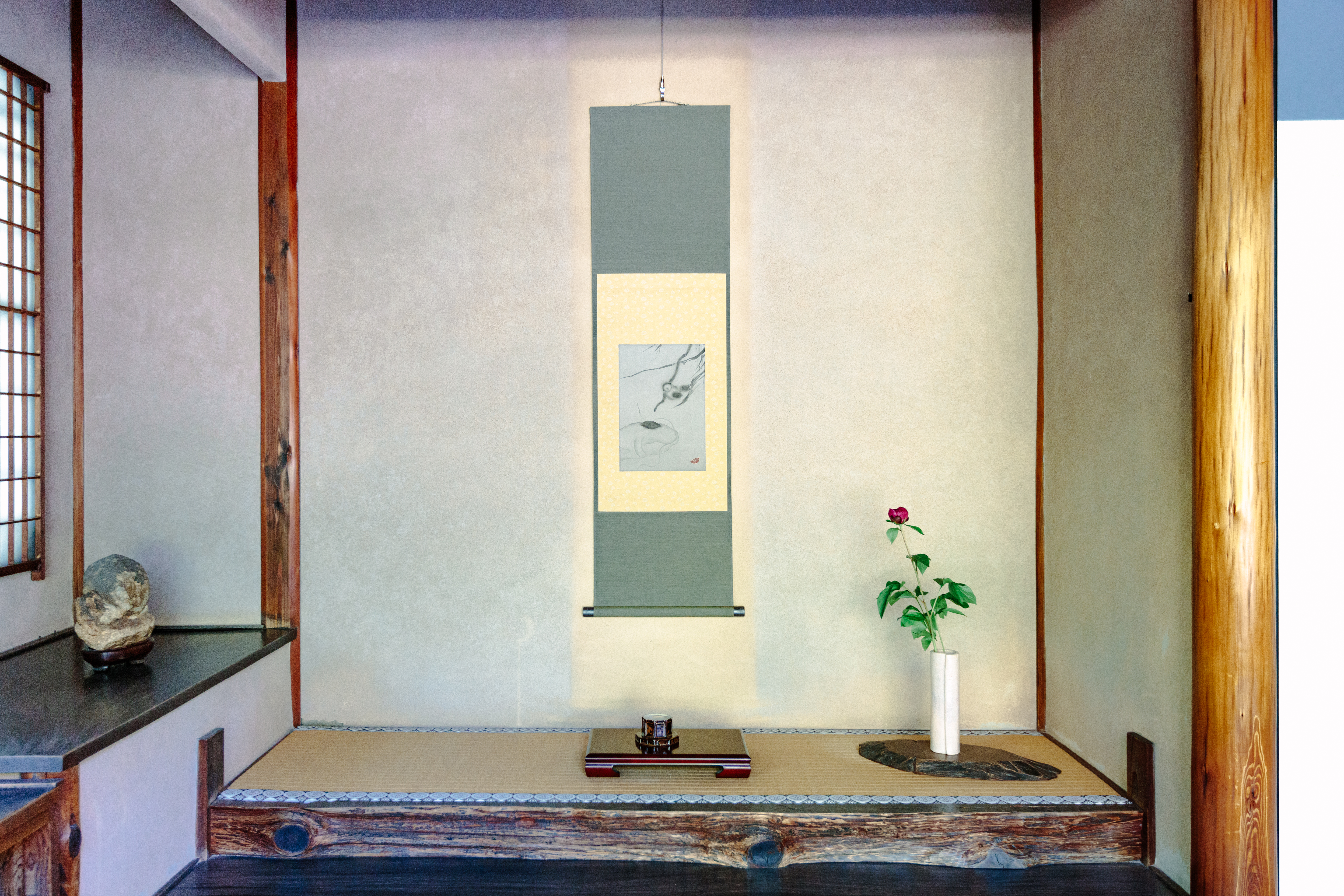 Title: Monkey reaching for the namazu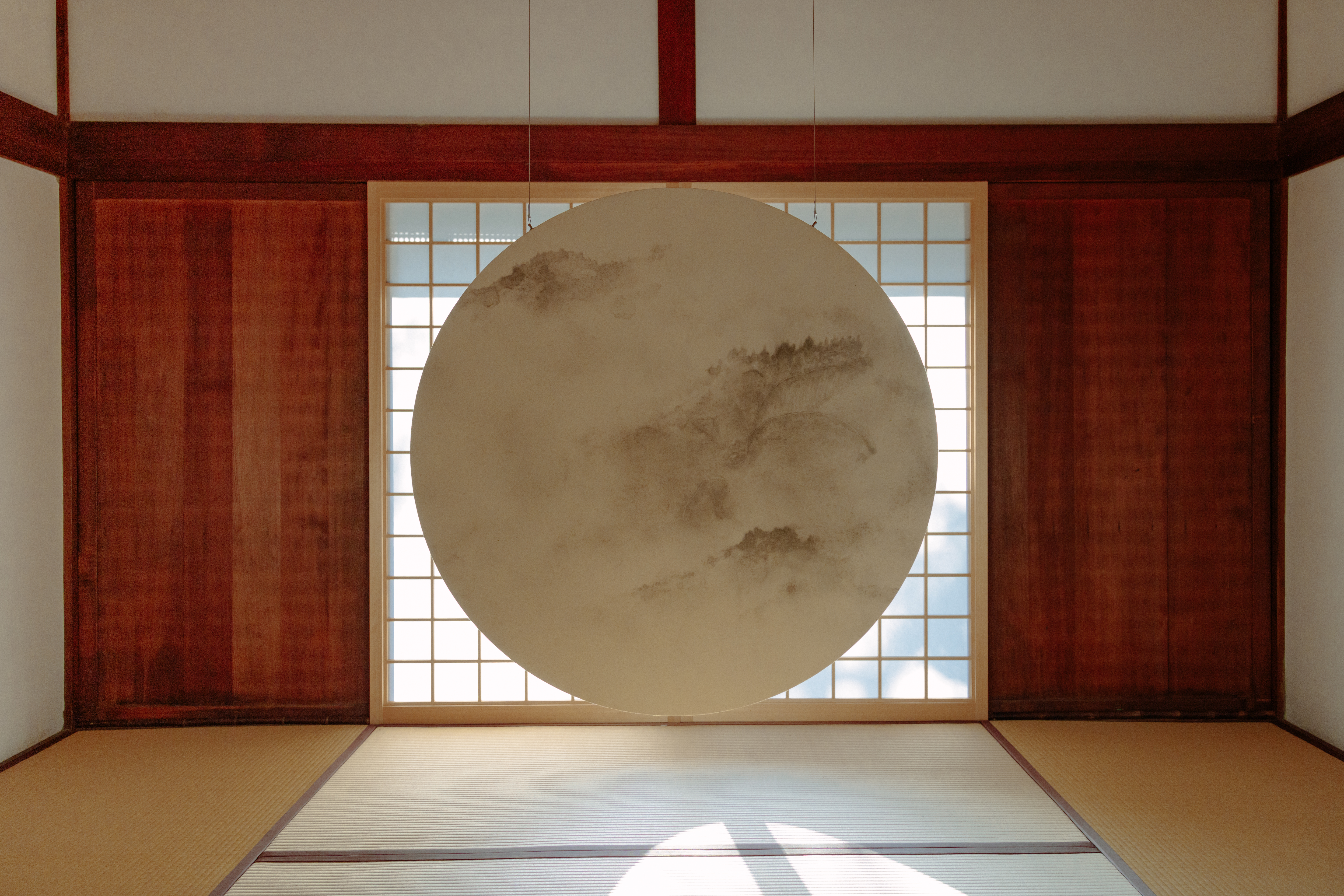 Title: East Mountain walks on the water (Yama-kujira)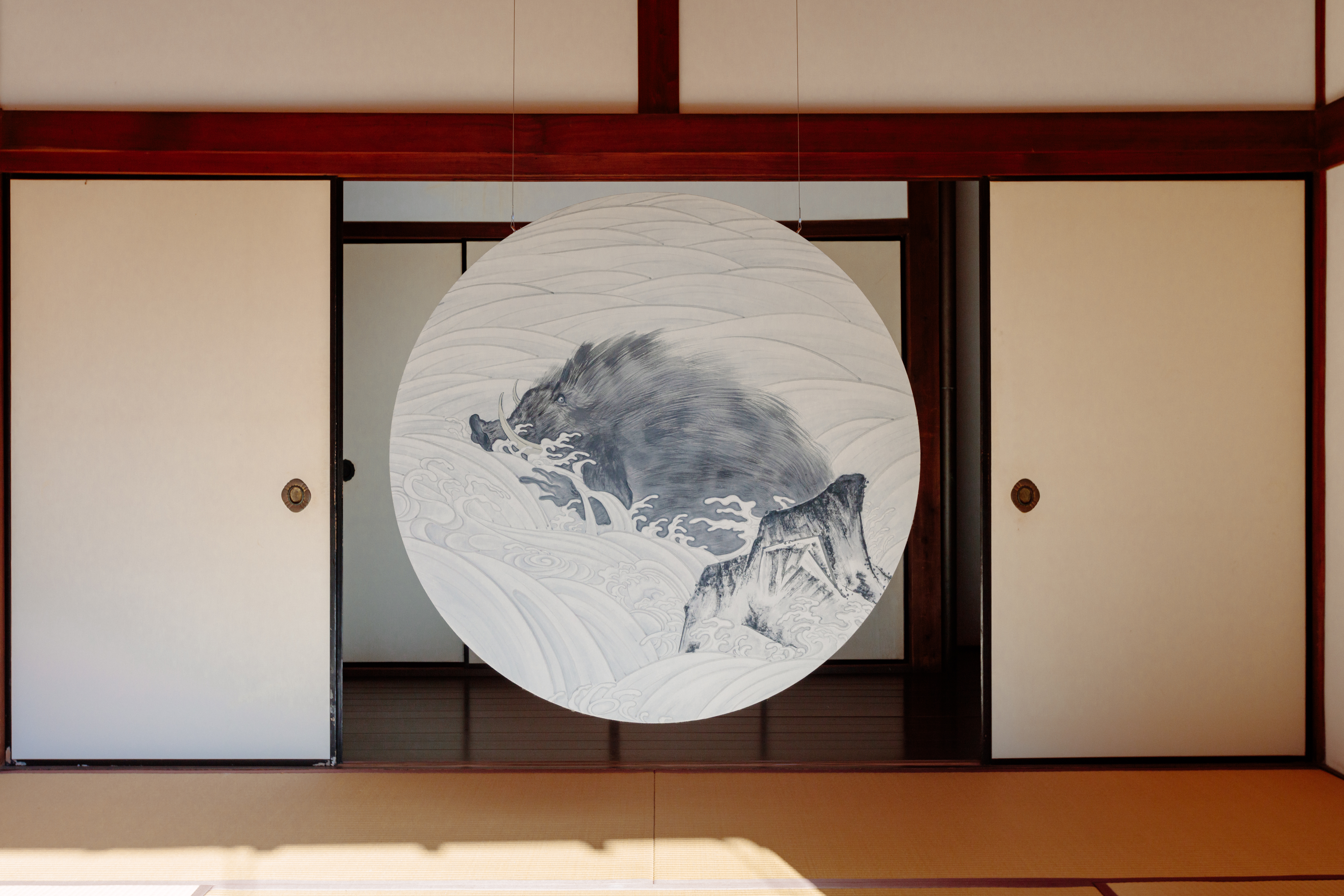 Title: East Mountain walks on the water (Umi-inoshishi)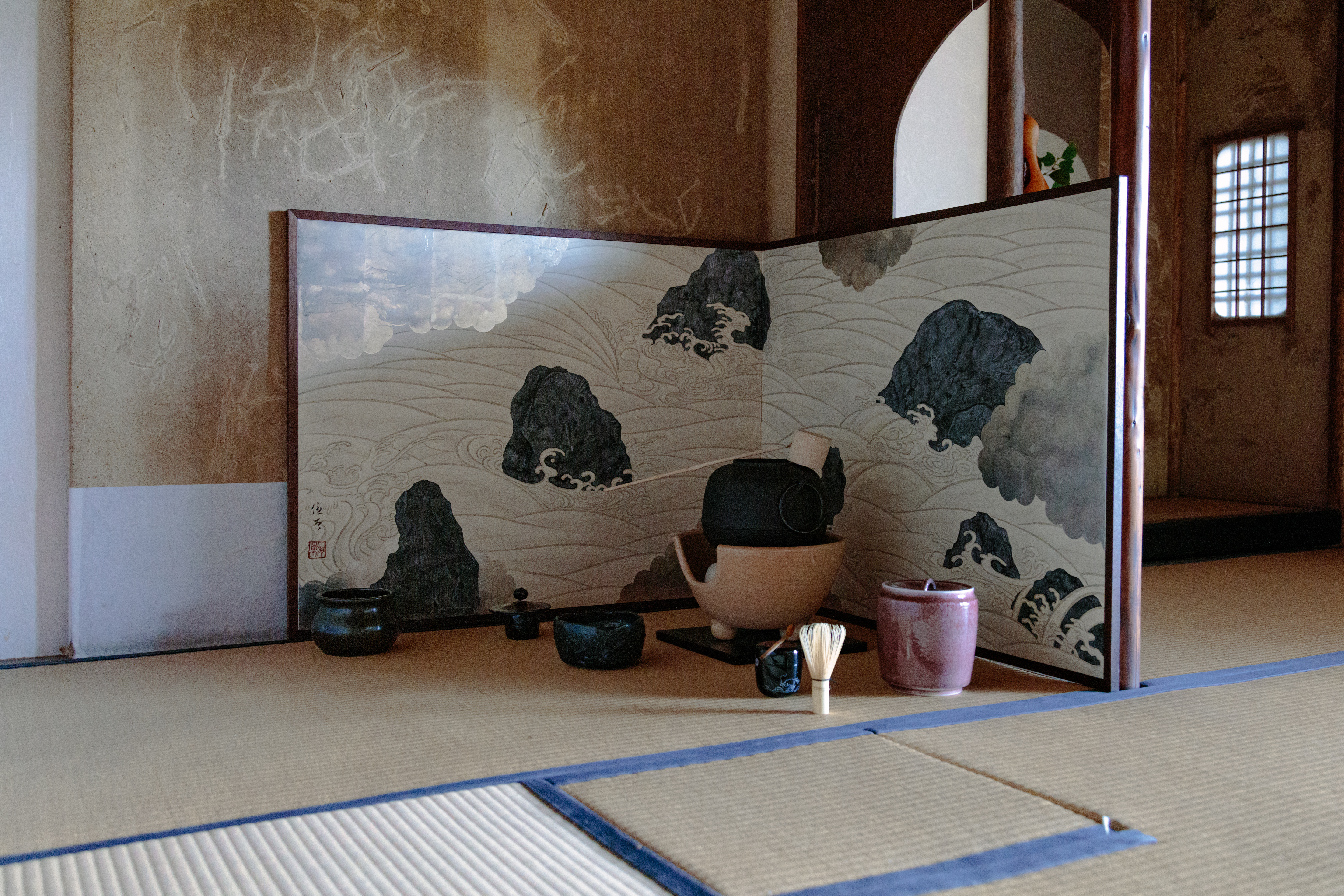 Title: Hashin under the moon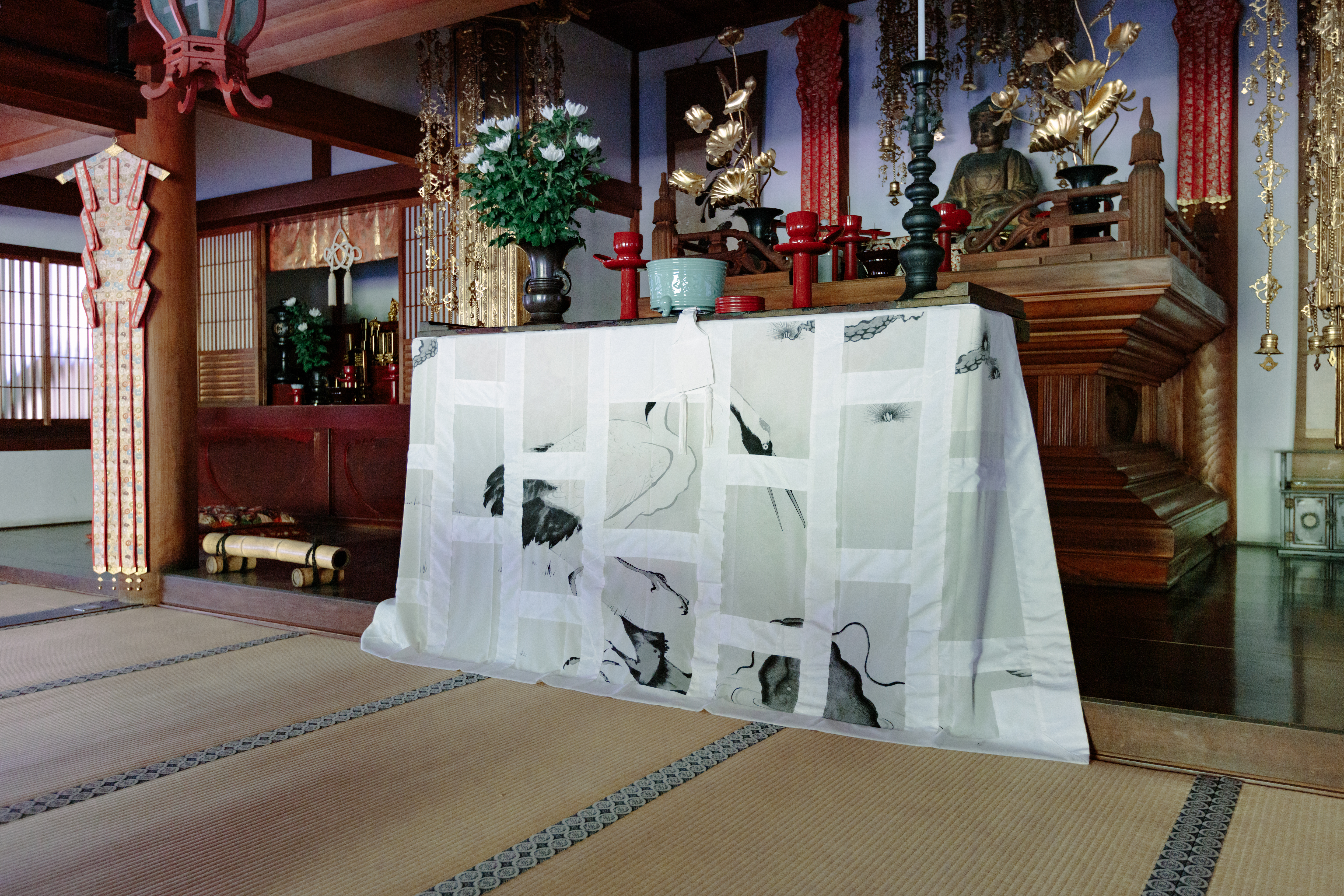 Title: Pine, crane and catfish