ARCHI-CLE
森の図書館_三井嶺
Library in the forest_REI MITSUI
神奈川県・逗子における、個人住宅の計画。
クライアントの要望は、「図書館」の片隅に「司書」として住む場所があればよいとのこと。ゆえにリビング・ダイニングといった室名の部屋はない。住宅として必要な寝室・キッチンなどを階段状に重ね、残りは全て閲覧室と書架に充てている。
敷地は谷戸と呼ばれる襞状に入り組んだ丘陵地の麓にあった。急峻な山肌から覆いかぶさる木々の枝をモチーフに、角材を束にして敷き詰めたような屋根で全体を包み込んだ。杉板を湾曲させながら細かく集積した柔らかな3次元シェル構造がそのまま仕上げになっており、弓状のスリット窓からは穏やかな光が差し込む。
数万冊におよぶ蔵書を納めるおおらかな覆いは、静謐な光に満たされた、本と人のための場となっている。
構造担当 / 坂田涼太郎構造設計事務所
竣工日 / 2019年
構造・構法 / 木造 在来軸組 (地下:RC造)
規模 / 地下1階、地上2階+ロフト
敷地面積 / 196.87㎡
建築面積 / 73.65㎡
延床面積 / 147.88㎡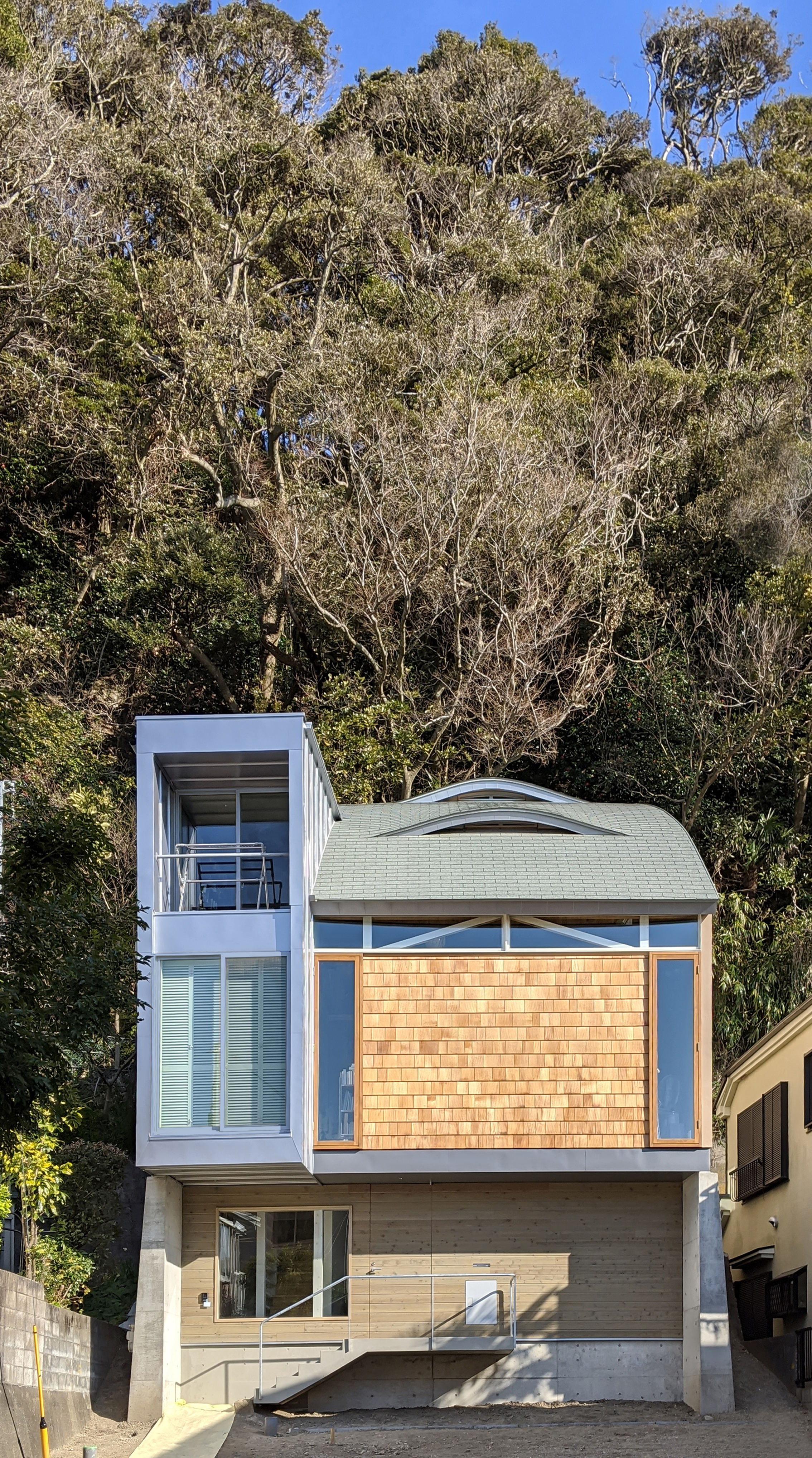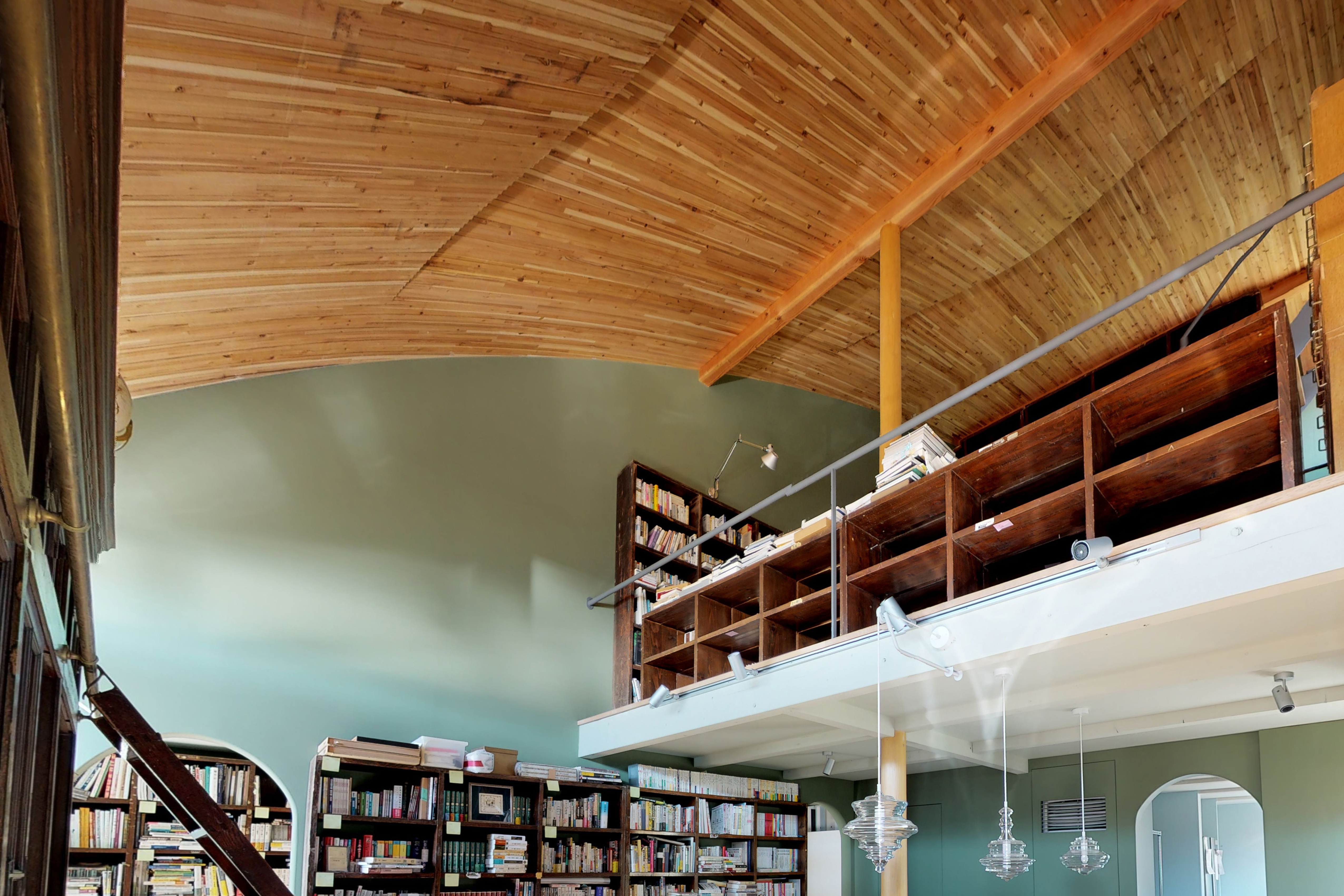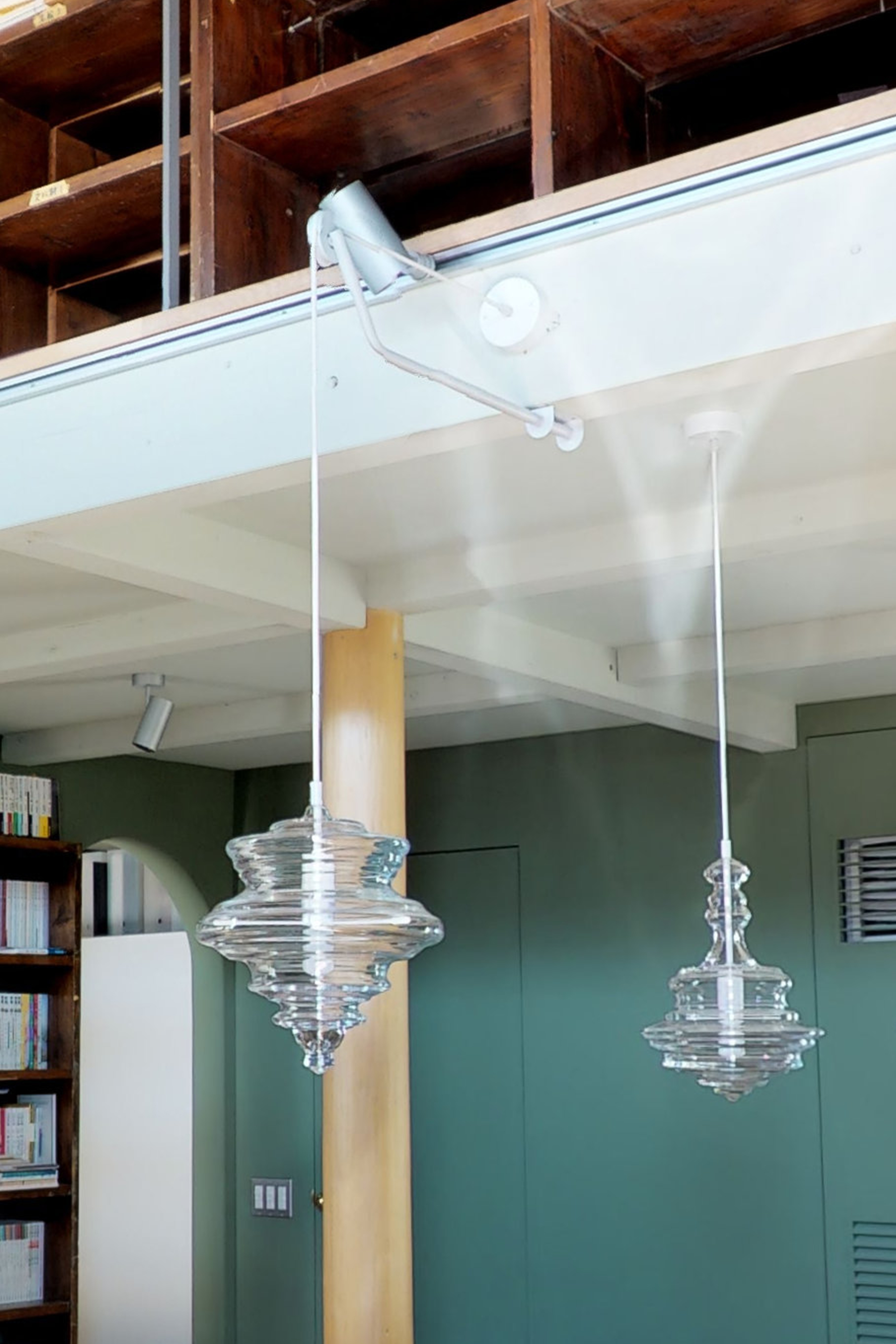 A private residence in Zushi, Kanagawa Prefecture.
The site was located at the foot of a foothill and the steep mountain face was covered with trees.
The client wanted to have a place to live as a "librarian" in the corner of the "library" as their home and work space. Therefore, there are no room names such as living room or dining room. The bedroom and kitchen, which are necessary for the house, are stacked in a staircase shape, and the rest of the house is devoted to reading rooms and bookshelves.
The roof, which encompasses the whole building, is composed as if it were made up of a bunch of small square pieces of wood, with the motif of the branches of trees covering the mountain. The roof is 11 meters long and has windows that are cut into the roof. The light shining in through the crescent-shaped slit window shifts slowly, depending on the weather and time of day.
The generous cover, which holds tens of thousands of books, is a place for books and people, filled with calm light.
Structural Engineer / Ryotaro Sakata Structural Engineers
Year / 2019
Main Structure and Construction / Timber frame(Basement: Reinforced Concrete )
Size / 1 basement floor and 2-storey above the ground
Building area / 196.87m²
Building scale / 73.65m²
Total floor area / 147.88m²